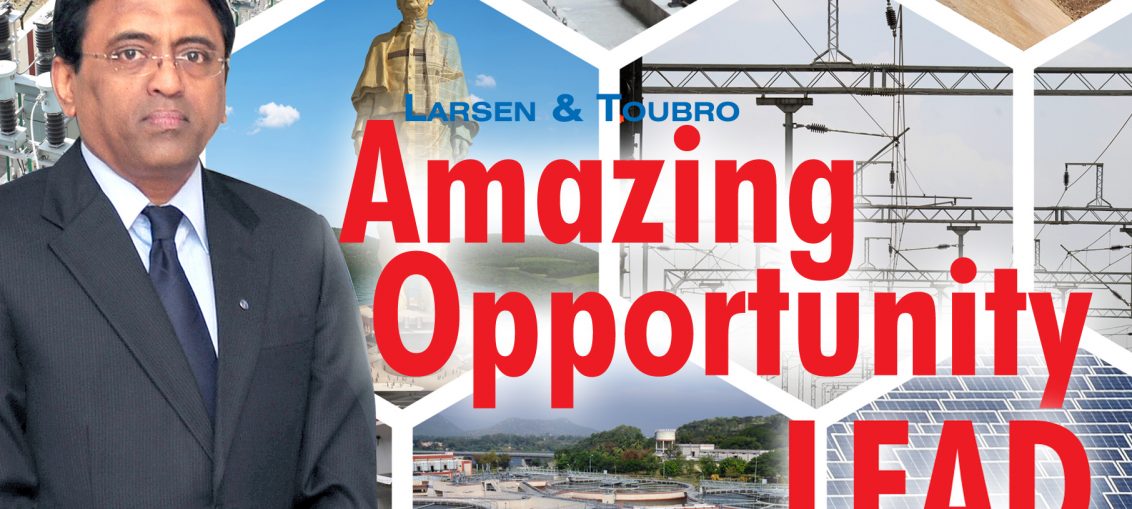 The four significant aspects of business development are (a) plan,
(b) deploy labour, (c) optimise the use of materials and
(d) marry technology to improve work practices. In each of these L&T has kept pace with state-of-the-art developments.
– S N Subrahmanyan
It is a hectic schedule for S N Subrahmanyan (SNS): constant travels, monitoring the progress of large, variegated projects, meetings with policymakers and clients…
For starters, look at the workforce. L&T handles around 275,000 labourers working at any given point in time. Factoring a rotation of five when these men return home for attending festivals, functions… the numbers swell to 11 lakh annually.
The wave of Digital Transformation
After a hectic visit to the L&T shipyard at Kattupalli, SNS met with senior executives and briefed them on the progress of digitalisation. So when I began my interactions with this topic, SNS was all passion and eloquence: "I have used every platform available to drive the message of digitalisation. Digitalisation is the springboard that will launch us to the next level, with efficiency and effectiveness. We will use the power of emerging technologies to make very significant improvements to our core operations that use men, machines and materials to save costs, improve productivity and reduce execution time. We are committing substantial investments in this digital effort. The savings will be multiple times the investment we make."
In his stint with the company for over three decades. SNS has built a tremendous reputation for scaling up L&T Construction's operations. The modern airports at Delhi and Mumbai are among the plentiful construction jobs executed on time and to perfection. I was curious to know how he seamlessly moved into taking up the much broader role of heading L&T engaged in multiple activities like the manufacture of sophisticated defence equipment, ships, capital equipment, IT, financial services and what not.
"For over six years I have been expanding my knowledge in newer areas. I spent seven months in the US to get updated on digitalisation, heavy engineering, IT and ITES.
I have also picked up a working understanding of cloud computing, digital smart services and product analytics," he said.
From building-construction to offering end-to-end solutions…
SNS explained in lucid terms the evolution of his company, continuously surging ahead, consolidating its leadership position. Look at SNS' description of the evolution of L&T:
"Earlier we were constructing structural buildings with beams and slabs. Soon we found that at least 50 others could do that. We next marketed to our clients our capabilities to take charge of entire buildings. And then we discovered others too could do that! So we offered to design the buildings. 'Give us a land; we will design and build,' we told them. The next stage was to offer to do the architecture, design and build. We said, 'we will provide a fully finished building. You need just to plug and play.' We expanded to train software engineers and build capabilities in building hospitals along with furniture and medical equipment, trained nurses and technicians to operate the equipment. Today we offer end-to-end solutions for a variety of construction jobs. The current focus is to refine these through digitalization."
We now know how L&T has been continuously maintaining its lead.
SNS described the four significant aspects of business development: the first is to plan, the second is to deploy labour, third is about optimum use of materials and the last is about the use of technology to improve work practices. In each of these, L&T has been striving to keep pace with state-of-the-art developments. The Chief Executive Officer and Managing Director described the focus on all the four aspects.
Over 30,000 assets…
L&T has identified around 10,000 assets (out of a total of 30,000 +) that are critical and focuses on the optimum utilisation of these. "We try to fix sensors in these assets, wire them up and collect and analyse data. The analysis includes the location of the equipment, hours it has worked, fuel consumption, wear and tear on major parts and total productivity. Using digital technology, we can look at these data – at the site, at the cluster office, at the head office and even on my mobile. All these available 24/7/365. This work lends for continuous effort to improve the utilisation of the equipment; these tools are handy for taking timely decisions.
Over a million labourers…
"At any given time, around 275,000 labourers work with us. There is a rotation of around six times as they return to their homes for festivals, marriages… Thus annually we employ around 11 lakh. We have the Aadhaar numbers and bank details of most of these workmen and we endeavour to transfer their wages directly into their bank accounts. We can reach directly the number of workers we require as we have their mobile numbers also. We thus by-pass the intermediaries."We are putting sensors in the helmets of
labourers that further helps in monitoring their work.
Materials – a shopping mall
"We can monitor the issue of material and track consumption and wastage on real-time basis. We are building the massive Statue of Unity with a bronze cladding around it fabricated in China. We monitor the work in progress at the Chinese workshop; the loading of these brass plates into containers, the specific ship in which they sit, the GPS of the vessel and the final tracking on the road.
Technology
"We do all the design jobs through 3D drawings. We are thus able to visualize the details. Even unskilled workmen can understand the job and execute it better, saving time and ensuring quality," said SNS.
With such elaborate details from planning to execution on a turnkey basis and using information technology, L&T has expanded its operations into high-end manufacturing jobs for defence. For the army, the company has been manufacturing artillery, chassis and boosters for rockets, special trusses and bridges for tanks, radars, etc. The company also produces submarines, especially nuclear submarines, naval ships and coast guard vessels. Orders from Defence account for a tenth of total revenues.
Thrust on exports
Such capabilities have prepared the company to expand exports, especially project exports and total turnkey end-to-end solutions. The Middle East, where L&T made its foray over three decades ago, has orders worth $ 8 billion that give around $ 2 billion in revenues annually. The increase in crude oil prices has been a help in brightening up the prospects for such exports!
The expansion of infrastructure building in the African continent, Far-East and CIS countries are also opening up the prospects for exports to these countries. The focus on IT and ITES have been bringing a good volume of business from the US. The improved performance of the economies in the USA and Europe in recent months promise better prospects than the past.
The Real Estate Regulatory Authority (RERA), the Bankruptcy Code and several other reform measures are far-reaching. But the attempts to do too many things all at the same time has had its impact on the private sector to cope with these. "There is growth, but it is not vibrant," said SNS. The government compounds this by frequent announcement of elections in several states which delays decision making. Businesses tend to be very cautious and defer investments, said SNS.
Unmatched capabilities…
A M Naik, L&T Group Executive Chairman, in his address to shareholders welcomed the government's increased emphasis on infrastructure development: "Such spends have a multiplier effect that enable pan-industry growth. With the unmatched capabilities of L&T in the turnkey execution of large-scale infrastructure, the company has been looking forward to the speedy transition of the proposals announced into the implementation mode. The company has built capabilities in smart cities covering all aspects of security, mobility, and intelligent infrastructure." (Annual Report 2016-17).
With the government stepping up its focus on water and effluent treatment, power transmission and distribution, expansion of railways through dedicated rail corridors, metro rails, high-speed trains, elevated suburban rail systems, etc., the prospects for L&T have widely opened up.
Transportation – a large business vertical
"The transportation business is a key to L&T's fortunes contributing to more than a sixth of L&T Construction's revenues. It has bagged orders for projects like the Mauritius Light Rail System, the extension of the second runway at the Bangalore International Airport and from the new capital city of Amaravathi in AP," said D K Sen, Whole Time Director and Senior Executive Vice President (Infrastructure),
Sen referred to the step up in outlays proposed for infrastructure like the capital expenditure for roads to Rs 121,400 crore (up by 10 per cent), for railways to Rs 148,528 crore (an increase of 22 per cent), the outlay for Smart City mission fixed at Rs 2.04 lakh crore.
Focus on training
M V Satish, Whole Time Director and Senior Executive Vice President (Buildings, Minerals & Metals), touched upon the focus on training the employees on modern techniques, especially digitalization. "We have developed in-house expertise for most of the new technologies. There is healthy competition among different sites in evolving as the best site. In a recent contest there were almost 200 sites that competed," he said.
Satish expressed concern over the sluggish investments by the private sector and to the poor state of the real estate market. Things have been improving through the current year, he said.
The Metro master
The recent inauguration of a section of the Hyderabad metro, which L&T has been building and operating, is a watershed. S V Desai, EVP & Head-Heavy Civil Infrastructure, mentioned with pride: "we have emerged the foremost builder of metro rail systems in India. We have constructed most of India's leading metros. We are also involved in constructing metros overseas in Riyadh (Saudi Arabia), Doha (Qatar) and Mauritius."
Desai estimated the size of the market of metros at present at around Rs 20,000 crore.
Desai referred to L&T concentrating on its traditional areas of strength like the construction of bridges and hydel power projects: "capabilities in building equipment for nuclear power will be utilized in the impressive expansion of nuclear power capacity through the construction of ten units of India's indigenous pressurized heavy water reactors."
Construction of bridges has been one of our strong areas: we built the Panvel Nadi Viaduct which is still one of the highest viaducts in Asia; we are presently constructing the Kacchi Darga Bridge in Bihar which will be India's longest cable stay, extra-dosed bridge and the much-awaited Mumbai Trans Harbour Link project, said Desai.
Water, water everywhere
Water and effluent treatment is a significant segment of L&T Construction's business. This business segment has been registering rapid growth enhancing its process know-how and engineering capabilities. One can see its imprint across India, Sri Lanka, Middle East and Africa, said S Rajavel Senior Vice President & Head Water, Smart World & Communication.
Rajavel pointed to a mere 3 per cent of total water endowment being accessible as potable; just around 10 per cent of people in our country having access to clean water and less than 17 per cent to sanitation. There is thus abundant scope for working towards improving access, said Rajavel. The projects have been funded by the Centre and states as also through multilateral and bilateral international funding.
The range of specialist services includes creating world-class infrastructure in urban and rural water supply. Water treatment plants, waste water collection network and treatment, industrial water and effluent treatment, desalination plants, lift irrigation projects, canal rehabilitation, unaccounted for water and water management contracts.
In sync with India's growth
India's growth mirrors L&T's growth. In May 2018, L&T will turn 80. During this period, the organisation has kept pace and even led the growth of India. Thus we see the active integration of the growth plans of L&T with the initiatives of the Indian government like Digital India, Smart City Mission, Make in India, Start-Up India, Swach Bharat Mission, etc. The decades of experience gained in building infrastructure over vast areas continually keeping pace with technology developments is among the strengths of this infrastructure giant.
The experience in building smart facilities is expanding by the day. In Jaipur, L&T has installed interactive surveillance cameras, Wi-Fi, citizen kiosks and intelligent parking systems. In Mumbai, L&T has established the most extensive surveillance system. In Ahmedabad, Gandhinagar, Vadodara and Pune, the company has installed smart traffic management systems. In Nagpur, it has developed a 6 km intelligent strip that will have all 'smart' elements like smart lighting, smart parking, smart sanitation and smart kiosks. Such big smart projects are in progress in Hyderabad too.
In this long list we found L&T Construction enjoying custom in a rich measure in several smart states. L&T Construction headquartered in Chennai could be utilised much more by Tamil Nadu aspiring to set up several smart facilities.