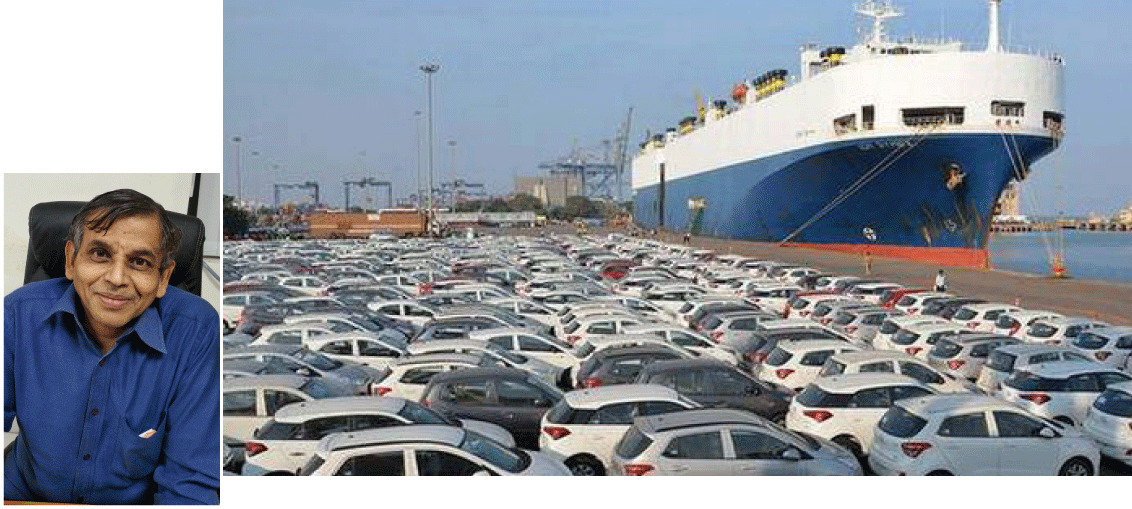 Sixteen road shows were conducted abroad, three in Tamil Nadu, and one each in Ahmedabad, Delhi and Mumbai. "The response is quite good," said M Velmurugan, Executive Vice Chairman, TN Guidance Bureau.
He compared this exercise to whale hunting: "in this, a huge whale is targeted, chased, harpooned and hunted. Likewise, we target a large company to invest in Tamil Nadu. We pursue it with the top management of the company at its office, build contacts and stable relationships. We present the various advantages of Tamil Nadu as an investment destination: infrastructure, ecosystem, attractive policies and proper incentives. We also showcase the record of several large corporations like Ford, Hyundai, Daimler, Michelin, Samsung, Foxconn, Yamaha…
"In some of the road shows abroad we also present senior executives of these companies to narrate their experiences." When we hunt a whale and catch one, a lot of other fish get caught along. Thus, a large manufacturer brings along scores of suppliers and vendors. Ford brought along 65 suppliers; Hyundai around 200 South Korean manufacturers.
"The objectives of GIM are to create new jobs and building the brand equity for Tamil Nadu. After achieving these, we also endeavour to upgrade the quality of investments. Even while we are happy over attracting labour-intensive investments, we are also getting investments in technology," he said.
Velmurugan cited the experience of Ford Motors that has been manufacturing automobiles in Tamil Nadu for two decades and exporting cars in large numbers. "Ford has set up a large R&D facility in the state. The state-of-the-art research centre is the largest outside the one at Ford headquarters in Dearborn. Likewise, the toughest truck produced by German automobile giant, Daimler, was designed and developed in Chennai and its production facility has become an important hub for Daimler for exports of heavy commercial vehicles," said Velmurugan.
With four decades of experience, Velmurugan has been intimately involved in attracting and guiding global investors in a wide range of industries to set up shop in Tamil Nadu.
Building Brand-TN
In my visits to the offices of TN Guidance Bureau and SIPCOT, I was struck by the officers working far beyond the regular working hours. Led by the top executives, these places are a beehive of activity even at 9 pm. More importantly, there is passion and energy for making GIM a big success even in the late hours.
Dr K P Karthikeyan, Director, TN Guidance Bureau explained the three-pronged strategies followed for GIM. One, sorting out issues of existing investors. These units serve as brand ambassadors for the state. Two, reach out to prospective investors across the country and globe. And three, sharpening the methodology and processes. e.g., faster approvals, single window clearance system and ensuring ease of doing business.
Karthikeyan referred to the TN Minister of Industry, Additional Chief Secretary-Industry and other senior officials, sorting out several of the pending issues with speed. These have resulted in healthy vibes and increased enthusiasm of existing entrepreneurs. Several of these have already come up with expansion plans and new projects.
"We are focusing on building Brand-Tamil Nadu. The many positive features of the government keen to accelerate development and provide jobs, the abundance of skilled manpower, a peaceful work culture, work ethics and the rich infrastructure of port facilities, air connectivity, assured power… are highlighted. Our single window system, online access to several departments, fast-track system with guaranteed approvals within 30 days when all requirements are fulfilled, proved attractive. The list of incentives offered on investments is found to be quite attractive.
"Quite early, five countries have joined us as partner countries. A couple of more have evinced interest to join. We are coordinating with diplomatic missions to bring in delegates from abroad," said Karthikeyan.
So the bureau will guide surely and safely, holding the hands of the investors!