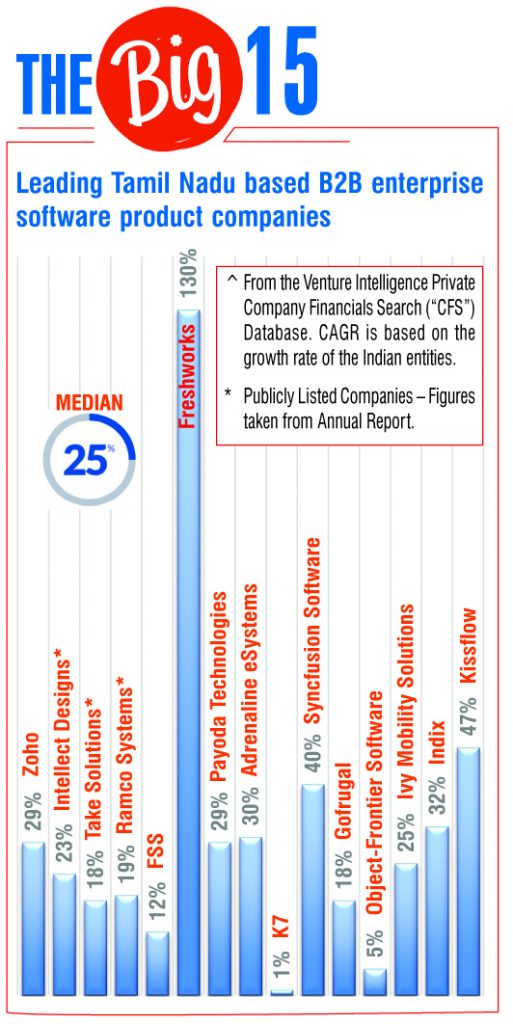 The pace of change in the IT industry in Tamil Nadu has been so dramatic that new icons have emerged becoming the envy of other sectors. Back in 2015, at the Global Investors Meet (GIM), the biggies, namely TCS, Cognizant, Infosys, Wipro and HCL were the type of companies that stole the limelight announcing multi-million dollar investments in the state. They were rightfully hailed the poster boys for growth.
Cut to 2019. A new wave of Enterprise Product Companies is rising and these entities are showing stellar performance. Walk out of any airport in India or that matter in the 'Californian' Silicon Valley, and billboards of Zoho will greet you. The Sridhar Vembu led outfit is an enterprise software product company that blossomed at the right time, when software as a service (SaaS) model enabled by the 'Cloud' was the new global mantra. Given its unconventional approach to talent building and product sales, these are the companies to watch and track.
Zoho is playing in the big league with a run rate of half a billion dollars in revenue. Not only that; the company has inspired several others to innovatively compete in the business software arena and create a niche for themselves.
Note 2018 was the year of Freshworks, a start-up promoted by ex-Zohoites that blossomed into a Unicorn. Founder Girish Mathrubootham took a different approach to growth, by opening up the firm to external investors and making acquisitions at a frenzied pace. Girish has received more awards in 2018 than any other tech leader!
Polaris, a financial technology master, has transformed itself, after a strategic transaction with Virtusa, into a product company. Led by entrepreneur Arun Jain, Intellect Design, which applies design thinking to everything it does, has under three years been able to clock more than 100 million dollars of annual revenue.