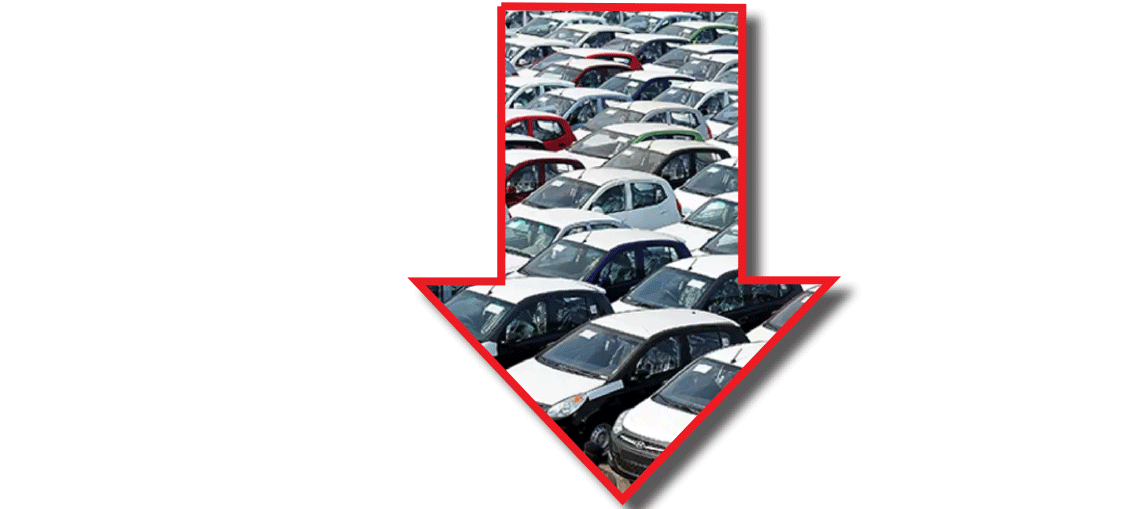 Regulations, policies, technological disruptions and NBFC crisis – have come at the same time to wreak havoc on the industry and hence everyone is clueless about the recovery in demand.
According to the latest statistics of Society of Indian Automobile Manufacturers (SIAM), passenger vehicle sales reported a decline of 31 per cent at 200,790 vehicles compared to a year earlier, marking a ninth straight month of decline and the steepest one in the past two decades.
Hyundai and Mahindra reported five and eight per cent decline in sales respectively during April-July 2019 period, while almost all other PV makers including Maruti registered a high double-digit decline in volumes.
With inventory levels as high as 30-45 days (20-30 days considered normal) for major OEMs, most of the big players had announced plant shutdowns between 5 and 20 days during May–June 2019.
Several reports point to a few lakh job losses due to the impact of slowdown on the vehicle, supply chain and after-sales segments in recent weeks. These numbers are likely to swell if the downward trend continued. But, several experts and industry representatives point out that this time the slow down is structural.
As India moves to Bharat Stage VI (BS VI) with a view to curbing pollution in the environment, confusion still persists among the vehicle makers and consumers over the many things including the price of BS VI vehicles and availability of the higher quality fuel despite the government's firm stand on the migration date.
On 1 April 2020, the BS VI emission norms will come into effect and all vehicle manufacturers will have to upgrade their technology accordingly. In the passenger vehicle segment, most of the car makers have not provided any clarity to buyers on diesel models and the impact of new norms on their product line up.
There is a certain cost element in upgrading diesel engines to comply with BS-VI norms and there is an established belief that BS-VI models will be costlier by at a lakh rupees.
Industry, two-wheeler segment, in particular, is fuming over the government's push for full electrification in two and three-wheeler segments by 2023 stating that the deadline is 'unrealistic.'
Though the ecosystem for electric vehicles – production and development of electric powertrains, battery technologies and charging infrastructure – is still in its early stages, government's stand on EV deadline has left the industry in jitters.
In the passenger vehicle segment, the auto sector is definitely undergoing structural changes due to technological disruptions, regulatory tightening and changing buyer preferences.
App-based taxi services like Ola and Uber are causing some structural changes in the car market. Thanks to the boon of smartphone and internet, Ola and Uber have been a big hit in major cities
Commercial vehicle industry's problems were different as the major factors for the current slowdown include implementation of axle load norms and lack of financing on the back of the NBFC crisis.
With GST kicking in, truck movements have improved anywhere between 30 and 40 per cent due to the vanishing of hurdles such as border checks and associated issues. Thus, this led to an improvement in vehicle utilisation by about 30 per cent.
As NBFCs play a key role in driving truck sales, the crisis in the private lending segment has also made things difficult for people who still want to buy trucks. Without an improvement in lending and affordable interest rates, CV sales are unlikely to pick up.