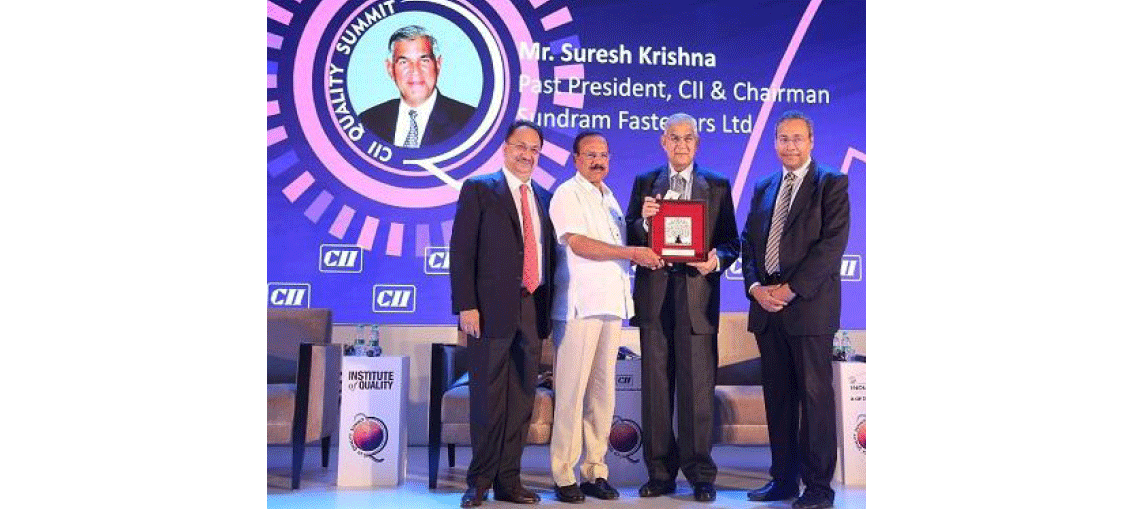 In each machine, one more machine is invisibly present: the productivity of the machine, just at the level of around 35 per cent due to constraints of lack of planning and management, could be enhanced to 85 per cent plus. –Suresh Krishna
Suresh Krishna, Chairman of TV Sundaram Iyengar & Sons, was presented with Quality Ratna Award by CII Institute of Quality at its 27th Quality Summit held last month in Bengaluru. The citation mentioned Suresh as a role model for the society in embracing the principles of quality, in both personal and professional life. Suresh helped setup the TPM Club of India in collaboration with the Japan Institute of Plant Maintenance in 1998 and was its first chairman. Thanks to his leadership and contribution to the TPM/Quality movement, India today has the maximum number of TPM award winners outside Japan.
I have a long and close relationship with Suresh that dates back to 1962. We used to meet at the office of SN Ramasami, then Advertising Manager, TVS. SNR was a widely respected expert on the transport sector and was also well-versed in Hindu philosophy.
Unlike the route for executive leadership through degrees in engineering or finance, Suresh pursued literature and specialised in German literature in the US and Germany. His uncle, TS Srinivasan, entrusted him with a small-scale industrial unit manufacturing bolts and nuts in Ambattur that was struggling to break even. Through studying the literature on fasteners and working with machinery manufacturers, Suresh learnt the technology in a quick time. Soon the customer base expanded and production shifted to Padi in the sprawling manufacturing complex of TVS.
Shunned foreign collaboration
In his earlier stints of training at Lucas TVS and Wheels India, Suresh observed the tendency of the foreign collaborators to dominate and decided to opt for indigenous technology and development.
I have had the opportunity to report on the evolution of Sundram Fasteners Limited (SFL) all through its five decades plus. Several landmarks are still fresh in my memory, like the company adopting the Total Productivity Management concept of the Japanese. Suresh explained with a passion that in each machine one more machine is invisibly present: he proved that the productivity of the machine just at the level of around 35 per cent, due to constraints in lack of planning and management, could be enhanced to 85 per cent plus. SFL consistently proved this and SFL was the first Indian company to win the prestigious Deming Award.
Another landmark was the bold foray of Suresh into the manufacture of radiator caps for General Motors. A team from England visited India to explore the possibility of transferring the plant from the UK lock, stock and barrel, with assured offtake by GM. There were no immediate takers. Suresh saw the prospects and opted for it. In quick time, production lines were set up at Padi and supplies
began. Millions of radiator caps were supplied to GM plants with delivery on time every time. I remember the awards received in successive years by SFL as a prized vendor for GM.
Foray into China
Suresh used to point to visitors in the earlier years of his business life, mostly taken to the other Padi units with
foreign collaboration! It changed quickly with the reputation built by SFL as a reliable large supplier of quality products. Suresh made another pioneering deed, opting to set up a fastener manufacturing unit in Zhejiang, China. He used to express his admiration for the Chinese policymakers and bureaucrats, bending over backwards to welcome and support investors. SFL's Chinese unit continues to expand and is among its prized units.
SFL focusing on products involving cold forging, powdered metallurgy and radiator caps is a dominant producer of these and is the second-largest revenue earner (after TVS Motors) of the sprawling TVS group of companies. But in terms of profitability, SFL is number one.
So, Suresh, at 82, continues to receive encomiums and extends his expertise and advice liberally to vast sections of emerging entrepreneurs.