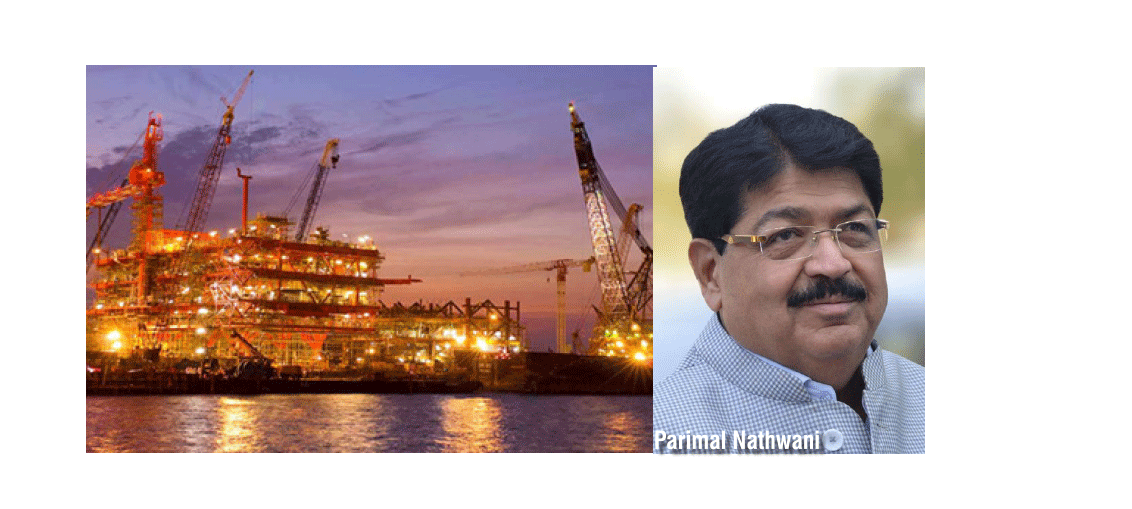 AP Chief Minister Jaganmohan offering a Rajya Sabha seat to the President of Reliance Industries Group, Parimal Nathwani, appears a master-stroke.
AP CM Jaganmohan Reddy has been through tough times. The state's finances are not in great shape. His predecessor, Chandrababu Naidu, quit the NDA alliance blaming, the Centre for not baling the state out of its financial crisis. Naidu wanted special allocations on the ground that the division of the state endowed Telangana take the cake along with capital Hyderabad. Jaganmohan has been busy undoing most of the works of the Naidu government. Particularly harsh was the decision to rescind the plan to develop Amaravathi as the new capital. Massive investments were planned to make Amaravathi a smart city comparable to Singapore. Reddy's plan to build three capitals also calls for large resources.
In this background, his wooing Mukesh Ambani, offering a Rajya Sabha seat to the President of Reliance Industries group, Parimal Nathwani, appears a master-stroke.
Kakinada can become a Jamnagar…
Reliance has made large investments in Kakinada on the Andhra coast on exploration and production of oil and natural gas. The group also constructed at break-neck speed, a 1400-km pipeline for transferring gas to Gujarat. Reliance has invested massive amounts at Hazira (near Surat) and Jamnagar on its petrochemical and refinery units and at Patalganga in Maharashtra and has its headquarters in Mumbai.
Reliance has massive plans for expansion of all its three major businesses – petroleum, retail and telecom. The group's plan for restructuring the finances of its companies and infusing massive investments through collaborations with international giants like Saudi Aramco would make these debt-free. This will give large leeway for investments, both for expansion and diversification. Jaganmohan's initiative in rewarding Reliance with a prized MP post is thus promising.
Remember, Reliance earlier had big plans for setting up in Navi Mumbai a large capacity fertilizer plant and power plants based on gas. These were thwarted by the Central government taking control over the allocation of gas and its pricing. Reliance's plans for setting up a large SEZ also could not take of due to difficulties in land acquisition in Maharashtra. AP, keen to attract investments, can offer large tracts of land cheap (a prospect non-existent in neighbouring TN with its high urbanisation and expensive land). Jagan's YSR Congress has a large majority in the AP legislature – 154 seats out of the total 175. With steep fall in the price of crude and gas (as low as $2 for million metric British thermal unit) and ability of Reliance to negotiate for these over the long term and its production off the AP coast can pave the way for setting up a large petrochemical complex in AP as in Gujarat.
The MP ticket diplomacy is nothing new. For years Karnataka, AP, Maharashtra, Bihar and other states have been using this to great effect. Remember, Rajkumar Dhoot of Videocon was fielded by Shiv Sena to the Rajya Sabha for long? Deve Gowda's Janata Dal (Secular) party had sent Vijay Mallya and even M A M Ramaswamy from TN to the Rajya Sabha. Assam fielded Dr Manmohan Singh. In recent times, Nitish Kumar made ex-civil servants N K Singh and Pawan Varma MPs. But Jaganmohan's appears really a prized catch with immense possibilities for investments.
TN – MP crorepatis by the dozens
Dravidian parties of TN have been zealous in distributing MP seats only to party men and women. In the process, these parties have created crorepatis in dozens. The MPs seem to have done well for themselves. But over the past 50 years, very few of these have earned a name as good parliamentarians or evolved as leaders of all India stature.
Popular chief ministers Annadurai, Karunanidhi, MGR and Jayalalithaa have kept a distance from business leaders. In turn, businesses also kept aloof of these political leaders. The bureaucracy has been overwhelmed by the power of these tall political leaders from the film world. Significantly, none of these leaders undertook foreign trips to seek investments so effectively done by S M Krishna, Chandrababu Naidu, Narendra Modi and Sheila Dikshit.
In a welcome change, TN Chief Minister E K Palaniswami has been scouting for investments, undertaking foreign tours, wooing the Indian diaspora in several countries and also focusing on the ease of doing business. In the same breath, he would do well to adapt the beneficial practices of scouting for talent from outside politics. Talent and yen for development within the political class appear limited. He should take bold to look for it from business, judiciary, civil service, academia and other professions. MGR had done this in fielding businessmen G Varadaraj and R Ramakrishnan; Jayalalithaa sent chartered accountant R K Kumar to the Rajya Sabha.
The AIADMK, close to BJP, could have offered Rajya Sabha seats to Nirmala Sitharaman and S Jaishankar, both Tamils, who occupy senior cabinet posts at the Centre, looking at the goodwill, prestige and potential benefits to the state and the party!