CRISES HAVE OFTEN been the springboard for new disruptive growth. Remember the fiscal crisis of 1990- 91 proving a game-changer to discard decades of state controls – licences, permits and quotas – that heralded the era of liberalisation?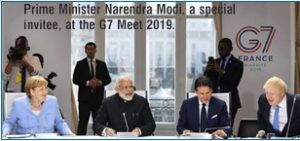 There have been myriad suggestions on turning the Covid19 crisis into an opportunity.
The rapid spread of Covid19 that originated at Wuhan, China, has understandably angered global leaders. Several of these demand a re-look at the dominance of and dependence on China for supply of a vast range of goods and services. There are suggestions on creating new manufacturing hubs in countries with abundant skilled labour available at modest cost. Several south- east Asian countries and India appear to have good prospects for relocating production units from China.
To seize quickly the opportunities, Indian policymakers should act with speed and ambitious plans.
LEVERAGE PERSONAL RAPPORT
From AB Vajpayee through Dr Manmohan Singh and Narendra Modi, Indian prime ministers have striven hard to improve relations with other countries, especially developed ones. The personal rapport built by Narendra Modi with several tall leaders across the globe should be leveraged to expand bilateral partnerships of large value.
IE has been suggesting such partnerships for constructing large infrastructure projects with bilateral trade balanced over medium and long terms. India's past rupee trade agreement with the USSR was a big help in building large capacities in steel, power, oil refining, fertilizer, machine tools… apart from defense equipment. These were facilitated by barter like deals. These helped pay for big ticket imports through Indian manufactured as well as primary products.
Modi did try to get such a deal with Japan, signing a high speed bullet train project between Ahmedabad and Mumbai. This involved an investment of around Rs 110,000 crore. The Japanese had agreed to fund the project through loans on soft terms. Such deals could be concluded for large sized projects involving investments of over Rs 100,000 crore each through bilateral agreements with several other countries including the USA, France, Germany, South Korea, UK, China…
In the present state of depressed economic growth, in- vestments and employment, developed countries would be interested over the prospects for big custom from India. For such projects liberal assistance should be extended to large Indian corporations both in the public and private sectors with strong backing and guarantees by the government.
The success of this approach depends on the ability of dedicated teams of policymakers led by the Prime Minister to think big and bold, leveraging the goodwill built by Indian prime ministers over the last couple of decades. But success is predicated upon the ability of India to establish projects in quick time with tight control over costs. Though we had excellent instances of such execution by several companies in the private and public sectors, the record has not been uniform.
Our divisive polity, ambiguous rules and absence of involvement by several state governments are deterrents.
There is tardy progress of the high speed train project due to issues of land acquisition and opposition by the Shiv Sena, Congress and the NCP led coalition government of Maharashtra.
FOCUS ON TIMELY CONSTRUCTION…
Such difficulties in land acquisition had killed plans on constructing a large number of mega steel projects in Odisha, including one by the Korean giant, Posco Steel and the Tata Titanium project in Tamil Nadu.
In each of the above two instances, the efforts spread over a decade, proved futile. The image of India in regard to ease of doing business is dismal. Modi and his team should focus on improving this image in quick time.
The country has the reputation for missing out several opportunities, including one benefiting from the nuclear deal signed with the US in 2005. Modi's government has adroitly managed the containment of Covid19 menace. While the success so far is significant in saving lives, providing livelihoods through massive employment opportunities deserves equal attention. Even while struggling hard to revive economic activity to pre-Covid19 days, the focus should be on attempting and implementing dozens of mega projects to make good for the opportunities lost.