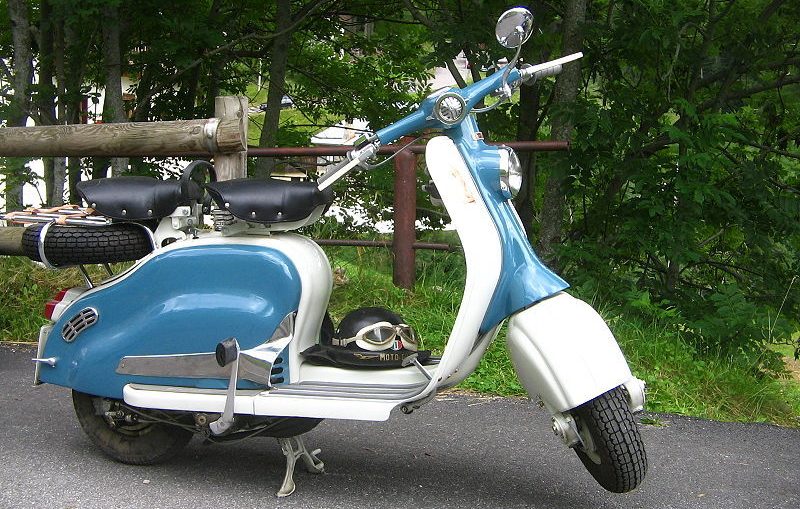 Down the Memory Lane
My close involvement with the two-wheeler industry and personally with my scooter took me closer to captains of industry and get updated on developments around Chennai and across India.
The year 1964. I was two years into the business of publication of the trade magazine Mobile. I established the magazine with modest earnings. Mobile demanded a good deal of mobility. It was time for me to graduate from the bicycle to a two-wheeler.
I learnt riding the two-wheeler with the help of a friend. Of course, it was not much difficult for one fairly good at cycling. The training lasted about an hour. I obtained a learner's licence.
In those times I had a lot of friends at Kalki, the famous Tamil weekly run by the famous freedom fighter and media magnate T Sadasivam.  Kalki had a large complement of writers, artistes…One of these, Kausikan, was keen to sell his Lambretta scooter. My friend SVS helped me in finalising the deal.
One fine morning Kausikan dropped the scooter at my house in Mambalam and collected Rs 3500 and left. It was well-maintained but rather heavy. I managed to push it up the steps with the help of my siblings with some difficulty, but with lot of thrill.
I was more mobile now…
With increased mobility I set about expanding my contacts. I rode long distances on regular visits to the Huzur Gardens, Sembium where several plants of the Simpson group of companies were located, to industrial units located in the southern parts of the city like Standard Motors, to Enfield India and Ashok Leyland in the north … The mobility helped expand my contacts and my knowledge horizons.
The frequent visits to TIAM House, headquarters of the TI Cycles, made me forge close relations with the senior executives. These included the head of public relations, Markand Desai, who had worked in the UK for a few years. He was quite effective in building cordial relations with the media, dealers and the workforce.
These contacts helped my launching a new publication, Trade Wheel, devoted to two wheelers. India then had such publications from the north but none from the south.
TI group extended good support in the form of advertisements. There was also the other parts manufacturer, the Wheel and Rim Company of the Simpson group, that welcomed and supported Trade Wheel.
I had been visiting Ludhiana earlier on Mobile magazine's work. So I felt confident over this addition. In December 1964, then Chief Minister of Tamil Nadu M Bakthavatsalam released Trade wheel. The function was presided over by A M M Murugappa Chettiar, the head of the TI group.
It was an auspicious launch. The magazine received good support from cycle manufacturers, especially in Ludhiana, as also from Sen and Pandit, Calcutta, Atlas Cycle Industries, Sonepat, near New Delhi and Hind Cycles, Bombay. I made frequent visits to the bicycle markets at Broadway, Chennai, the large wholesale market at Jhandewalan, Delhi and also to Ludhiana.
When I got stranded in Gurgaon…
On these trips to the north, I had the advantage of taking along my elder brother Balasubramanian, who was working in Delhi.
Soon after launch of Trade wheel, I visited Delhi. S R  Subramanian, then head of Madras Motors, distributors of Royal Enfield motorcycles, was a  friend of mine. I requested him to lend a mobike from his Delhi office. He kindly agreed.  I visited his office at Daryaganj. The local manager provided me with a Prince motorcycle. I rode to my brother's house at Lajpat Nagar. My brother and sister in law were thrilled. That weekend, my brother and I set out to visit our sister and brother-in-law working at the Air Force Station, Gurgaon.
On a pleasant Saturday morning, we rode to Gurgaon. My sister and brother-in-law were surprised seeing us arriving by a mobike.We spent the week-end   there and on Monday morning we were taking leave to return to Delhi. The blessed motorcycle seemed to like Gurgaon; it would not start!  We battled for quite some time.  My brother rushed to the nearest bus stop, got into a bus and rushed to his office in New Delhi. Along with my brother-in-law I located a mechanic. Even after battling a couple of hours, the mechanic couldn't succeed in repairing it.
I left for Delhi by bus and reported the matter to the Madras Motors office. The manager sent a mechanic from Delhi and collected the vehicle from Gurgaon. I sent a note of apology and thanks to SRS.
From Amritsar to Ambala on Scooter…
In early 1965, I reached Delhi by train. My brother and I planned a visit to Punjab in some detail to canvass for advertisements and also collect material for Trade wheel and Mobile. My brother had earlier worked for the railways and knew the system for transporting the scooter by train. So we boarded the Amritsar Express taking the scooter along in the luggage van.
We reached Jalandhar the next morning. We arrived on Platform 3. We had the problem of taking the scooter from. Platform 3 to the main Platform 1 pushing it all the way through Platform 3, making a U turn, crossing the line and taking it out through Platform 1. We were puzzled over the long haul.
A portly Sardarji porter watching us, offered to take it on his back, cross the line and drop it on Platform No 1. There was no need to push it over a long stretch.
With no other trains at that point of time, the station was empty. He demanded Rs five and we agreed. So, he jumped down to the rail track level and asked us to lean the scooter on his back, which we did. He effortlessly crossed the line turned around and landed the scooter on Platform 1. It was my first experience of witnessing the prowess and practical wisdom of a Sardarji. My admiration continues.
My brother and I rode the Grand Trunk Road to Amritsar. Weather was pleasant, the highway was free and the lush green fields offered an eerie sight. There was little traffic. We reached Amritsar, had darshan at the Golden Temple, moved around the town for a while and then started our trip to Ludhiana.
We crossed Jalandhar and then stopped at the plant of PEPSU Industries, Paghwara.
In those days, factories in Punjab were located amidst vast wheat fields; the main occupation was agriculture and industry was just emerging.At the entrance, we came across an old Sardarji repairing a ladder. My brother spoke to him in Hindi mentioning that we are journalists from Madras, interested in seeing his factory.
The Sardarji was the owner and took us around the factory. It was manufacturing hexagonal U bolts. He explained the process of manufacture.
We were struck by the ingenuity and the simplicity of the design of the machine. It started with cylindrical steel rods, pulled by a chain through a hexagonal die to convert into hexagonal rods; cut to the required size, bent into U shape, ends tapered, fitted with the nuts. U bolts are ready!
We gathered the total cost of fabricating the machine was just around Rs 25,000.  I had seen  in Ambattur, Chennai the U bolts manufactured by a  sophisticated  machine doing a similar job; the machine  was imported from the UK at a cost of Rs 5 lakh; the end product was obviously much costlier!
I just had my first great experience of the ingenuity and what was later described as the Jugaad.
We rode from Paghwara to Ludhiana. At the small town of Goraya, Jalandhar district, on the way we found over a dozen engineering units on both sides of the trunk road – all manufacturing rear axle shafts!
At Ludhiana we visited a number of manufacturing units that included Hero Cycles and Avon Cycles.
Hero Cycles' promoters, the Munjal brothers, Brij Mohan and Om Prakash, had a number of their relatives in the bicycle component business and were supplying the much needed parts for bicycles. So it was an impressive system of procurement of parts from around the factory by the hour. The concept of just in time was well practiced. I saw sack loads of such parts – seats, cups and cones, forks and handle bars… delivered by the hour and ready for assembling. Many of the machines were also fabricated by reverse engineering; that is, starting from one quality imported machine, dismantled and replicated part by part and assembled into dozens of similar machines.
The trip was also productive. We could get advertisement contracts for a year from a number of these manufacturing units and also got material on the high productivity of Ludhiana's enterprises.
We continued our journey and our next halt was Rajpura which had another efficient manufacturing unit, the Road Master Industries. After looking around, we continued and reached Ambala, got into a train to Delhi and thus completed a highly productive visit to Punjab.
It certainly expanded my knowledge horizons on the emerging light engineering industry of Punjab, which later proved too much of a competitor to the established giants that included TI Cycles, Sen and Pandit and Hind Cycles.
I continued my trip to Chennai taking leave of my brother. I just didn't know that it was to be my last meeting with him. In July, on the way back from his office in his scooter, he died in an accident caused by the reckless driving of a son of a Central minister.
The accident did shatter my family for quite some years as my brother was the sheet anchor to our family and who encouraged my entering business.
Both Mobile and Trade wheel did well as trade magazines. TI Cycles also encouraged me to launch a Tamil version of the bicycle trade magazine.
In 1967, I had the opportunity to visit over 20 steel and automobile manufacturing units in Germany and the UK. These included plants of the six steel companies that constructed the Rourkela Steel Plant, Daimler Benz, VDO  automobile and Volkswagen  in Germany and over a dozen large manufacturing units   in the UK that included Leyland Motors, Rootes Motors, British Motor Co., Dunlop, Lucas  courtesy the Society of Motor Manufacturers and Traders Ltd., U K. These visits provided deep insights into the sophistication and efficiency of European companies flourishing in the post war boom.
Paradoxically, the trip also resulted in my phasing out my trade magazines: I contrasted India struggling to produce around 20000 cars a year in three automobile plants, roughly equal to three days production of the famous Beetle at Volkswagen! I launched in March 1968 Industrial Economist as a fortnightly, aiming a much wider readership.
Earlier I continued my tryst with two-wheelers. My friend, S V Narayanan, a neighbour in Mambalam who joined the Indian Information Service was also a  Carnatic music enthusiast. We decided to attend the Thyagarajar Aradhana at Tiruvaiyaru.
I planned this trip combining attending the wedding of my classmate, B D Ganapathy at Tiruchi. I took my scooter along by train up to Kumbakonamon like what I did for my Delhi – Punjab trip.
We unloaded the scooter at Kumbakonam, visited several temples and reached Tiruvaiyaru,  spent time enjoying the Aradhana celebrations and then set out to Tiruchi via Tanjavur.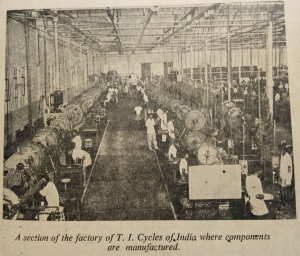 We attended the wedding in the evening and returned to Chennai by the overnight train booking the scooter in the brake van.
So, that's one more interesting experience on the use of the two-wheeler as an important business companion. It also took me closer to captains of industry and get updated on developments around.
I remember the invaluable lessons learnt from several of these including, S N Ramasami of TVS, HB Stanford, A K Bose, M K Raju and others at the Simpson group, A E L Colins at Ashok Leyland, Bayer at MRF, K Eswaran of Easun Group and dozens of others. They have been extremely kind and helpful to a greenhorn journalist half their age and helped me acquire needed knowledge of my business.
My close involvement with the two-wheeler industry and personally with my scooter continued till June 1969. I thought it was time for me then to graduate to a four-wheeler. My tryst with cars is another delightful experience.