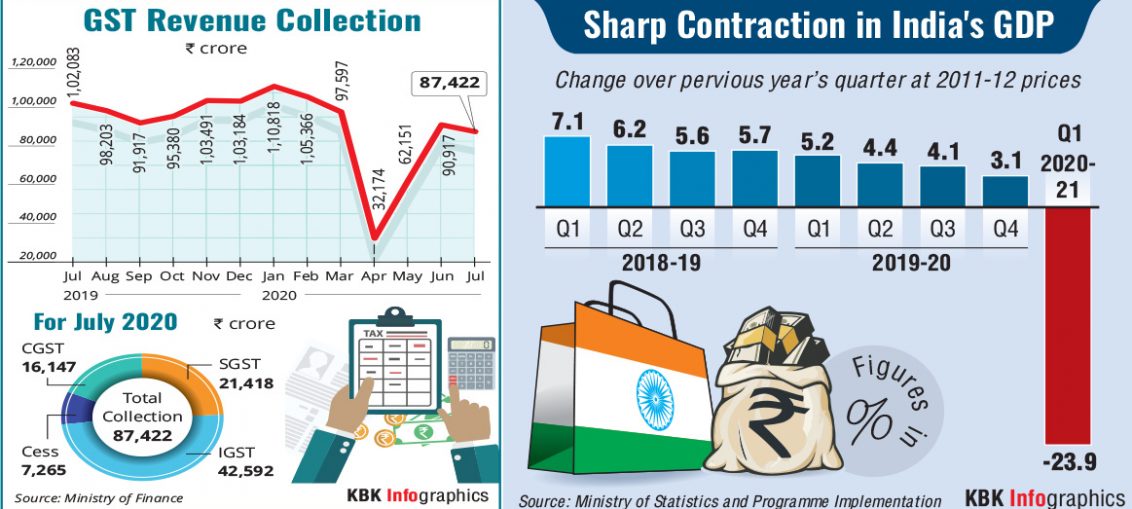 The Corona virus seems to have knocked the bottom out of the Indian economy that suffered the steepest fall. The country's GDP contracted by 23.9 per cent in the April – June quarter.
INDIA BEGAN PUBLISHING quarterly figures on the economy from 1996. This is the sharpest contraction in GDP since then.
Data released by the National Statistical Organisation showed manufacturing, construction and trade sectors suffered massive contraction at 39.3 per cent, 50.3 per cent and 47 per cent, respectively. The only silver lining was the performance of the farm sector which grew at 3.4 per cent in the June quarter. Significantly enough, government expenditure also contracted 10.3 per cent in the first quarter.
The alarming GDP number points the extent of the damage caused by the virtual standstill of the economy in the wake of the Covid-19 induced lockdown. The economy had started slowing down even before the Covid-19 outbreak.
GST row reaches flash point
With the economy hurtling down to a newer depth, Centre-States relations too have come under a flashpoint. The bone of contention is over the non-payment of GST to states. With collections plummeting due to the shrinking economy, the Centre is trying hard to work out a new mechanism to tide over the current mess. It wants the states to borrow directly the requisite funds. It has promised to facilitate a special window to borrow from the Reserve Bank of India. Many opposition-ruled states have strongly objected to this and have threatened to move the Supreme Court for redressal. None foresaw the current crisis when the GST architecture was erected.
No one predicted the virus causing such damage to the economy. GST took away the fiscal autonomy of the states. This is a new situation where states are advised to fend for themselves.
The Centre has suggested a couple of options.
Its fiscal calculation could go for a toss, if the borrowing is done by the Centre. This will have other serious implications. The sovereign rating could come under stress and also negatively impact the interest rates. The GST row is getting shriller with lots of political overtones. The situation calls for a relook at the GST architecture to find a mutually acceptable solution.
Some green shoots…
Amidst the gloom cast by the GDP numbers, there are some encouraging green shoots in the manufacturing front. From August there is a rebound in production volumes and new work. For the first time since March, output expanded in the Indian manufacturing sector in August. Production growth was largely driven by greater demand for goods.
The IHS Markit India Manufacturing Purchasing Managers' Index has risen to 52.0 in August from 46.0 in July, above the 50-level separating growth from contraction for the first time since March. This indicates an improvement in operating conditions across the manufacturing sector following four consecutive months of contraction. – K T Jagannathan