The new TRP:  Television Republic  Points
AT THE OUTSET, I must confess I stopped watch· ing English News  in TV a long time back. Most of them are busy BARCing during  their 'debates,' the sole exception  being NDTV. You can accuse  Pran• noy Roy's channel of anything, but you can let your kid watch it without fear of them turning bully.
Contrast with Republic and Times  Now, two channels that have reduced journalism into a painful joke. The Palgarh lynching is a case  in point where the country's resident hatriot made sensational charges, all of which were  disproved in no time. Of course, he did not apologize because he is not used  to it. The hatriot was found  fomenting false news multiple  times, but his connections with  the powers  that be helped his getaway.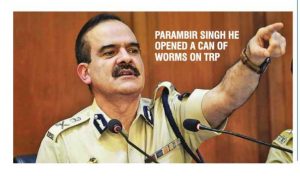 Parambir Singh opens a can of worms on TRP
by V.Pattabiram