Profile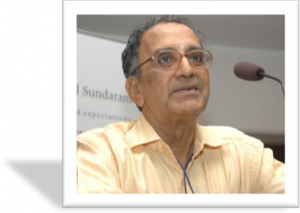 S Viswanathan
Editor & Publisher, INDUSTRIAL ECONOMIST
Chairman & Managing Director, Economist Communications Ltd,
owners of IE Managing Trustee, Agriculture Consultancy Management Foundation(ACMF)
After completing his post-graduate courses in mathematics and political science from the Madras University and teaching for a couple of years at the Madras Christian College, SV launched the transport monthly Mobile in 1962 and the business magazine INDUSTRIAL ECONOMIST in 1968.SV pioneered the concept of producing special issues on projects, based on visits and detailed discussions. He has visited hundreds of projects, spread throughout India. These include steel plants, power projects, fertilizer plants, agricultural universities, nuclear power stations, automobile plants, textile and petrochemicals units, oil platforms, oil refineries….
Since 1973, SV has been invited continuously, without break, to attend the annual Economic Editors' Conferences at Delhi inaugurated by the Finance Minister and addressed by over a dozen Central ministers and senior civil servants. He thus has the unique record interacting with policymakers for 44 years!
SV has also been invited several times by foreign governments/institutions to cover specific projects and programmes: by the government and industry of Germany, by the British
Foreign & Commonwealth Office, by the International Visitors' Programme of USA, by the French government, the European Commission, the FAO….
Due to SV's efforts in the capacity of a founder and Secretary General of the Madras Press Club in 1976, periodicals were also provided with press accreditation.
SV has participated in dozens of All India Radio and television programmes in Doordarshan, Sun TV, Thanthi TV, Puthiya Thalaimurai TV, CNN-IBN and All India Radio… He has also been writing articles in Times of India, Tamil daily Dinamalar and Tamil weekly Thughlak.
SV covered the Prime Minister's visit to Washington in August 2005 and was part of the PM's media delegation that visited UK and Finland in October 2006.
SV has interacted with several state chief ministers –Biju Patnaik, Dr Chenna Reddy,
N Chandrababu Naidu, Veerappa Moily, Parkash Singh Badal and Narendra Modi – and presented extensive reports on their respective states.
SV has been invited by the Zaheer Science Foundation to participate in its national and international seminars. In this forum of scientists he has been the only non-scientist!
A specialist writer on agriculture, SV took the initiative to set up the Agriculture Consultancy Management Foundation (www.agriconsulting.org) in 2006 to improve agri productivity taking recourse to science, technology and management by setting up a demo farm. The trustees and advisors include well-known businessmen and public figures
As part of his efforts to expand awareness on economic issues, SV has been organising seminars and public lectures on current and emerging issues. Some of the speakers presented under the aegis of IE include Messrs. R Venkataraman, C Subramaniam, Verghese Kurien, Mohan Kumaramangalam, Dr Manmohan Singh, Dr C Rangarajan, M S Ahluwalia, P S Ramamohana Rao…
SV built his knowledge and expertise on extensive visits to places and interactions with a wide spectrum of people. He has travelled extensively within the country covering remote interiors of several states. Except Jammu & Kashmir and five of the north-eastern states, SV has covered the rest of India in detail. Similarly, he has covered over a hundred projects in Germany, Britain, France, Japan and especially the US where he has visited over 20 states in detail. These have helped him gain insights on development, agricultural and social issues.
The Golden Jubilee of IE was celebrated recently with a daylong seminar on the theme India 2030. Over 40 experts- policymakers, business leaders, academics and professionals participated.
SV is married to Padma. Their son Bala and daughter Sangita, trained at IE, educated and work in the US.
Tel: 91 44 22501235 (Off)
Email :indecom1968@gmail.com
www.industrialeconomist.com