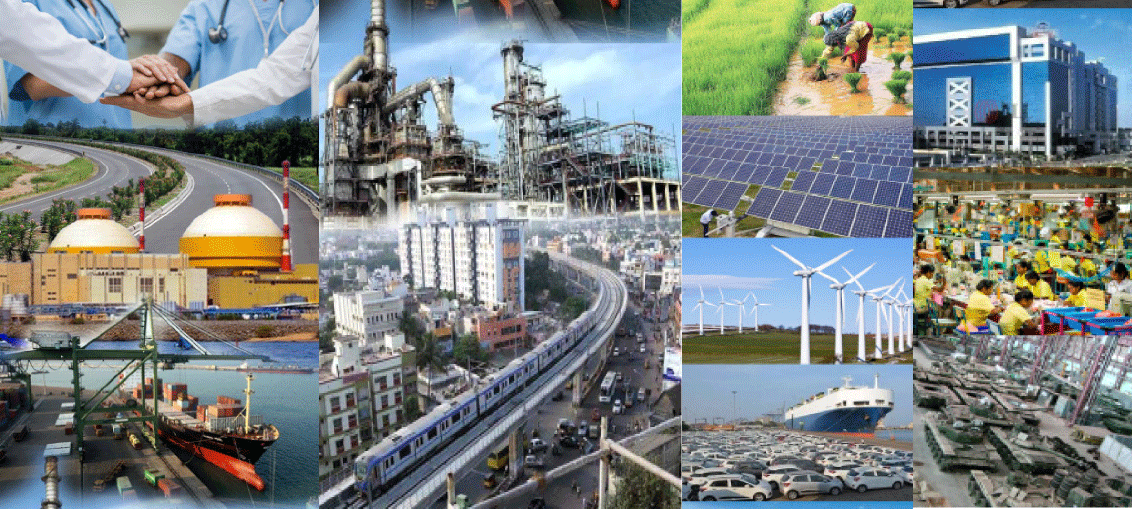 Chief Minister Edappadi Palanisamy announced in quick succession several fresh investments. This augured well for the second Global Investors' Meet (GIM). These investments covered a vast range of industries: from a new refinery and petrochemicals project to automobiles, cell phones and glass.
The second GIM is expected to attract much more participation than the earlier one. Leaders from the government presented road shows in global and national cities and several districts of Tamil Nadu. These were led by the Minister of Industry, senior bureaucrats and business leaders. Additional Chief Secretary K Gnanadesikan detailed the special meetings organised with MNCs and described their interest as encouraging.
In Chennai, CII organised special programmes on a range of subjects. Business leaders expressed their appreciation for new policy pronouncements and measures like the single window clearance. The generous incentives offered by the state had attracted a lot of investments, including repeats, ever since liberalisation in the 1990s. Look at the spectacular money spends continued to be made by companies like MRF, Saint Gobain, Feng Tay, Hyundai, Ford Motors…!
Jobs Galore!
For a few months now, IE's team of senior correspondents visited several projects spread across the state and interviewed leaders in different sectors. We have reported instances of vibrant growth resulting from significant thrust in new technologies.
We were wonderstruck by massive employment in several places: the Taiwanese company, Feng Tay, operating at Cheyyar for over a decade, has set up large manufacturing facilities that employ 23,500. An interesting aspect is that over 18,000 of these are women drawn from the surrounding rural areas paid decent wages! With adequate training and production systems, the company exports the Nike brand of products to the US and Europe. Such substantial employment of women has also been provided by Foxconn, the Taiwanese giant contract manufacturer at Sriperumbudur. Over 15,000, predominantly young women, drawn from the rural parts of Tamil Nadu, assemble around 1200 micro-components for producing cell phones at the rate of three per second!
Tamil Nadu has been unique in its high level of urbanisation. This is exemplified by ten cities of the state selected under the 100 Smart Cities programme. Each one of these has a robust infrastructure. The focus is on a liberal recourse to technology and state-of-the-art IT systems to provide assured supply of energy, water, sanitation, security, communications, and other civic needs. Thus with such strengths, each one of these has the potential to attract investments. This essentially means dispersed development of industry across the state. This facet is not seen even in Maharashtra, the only state ahead of Tamil Nadu in terms of the Gross State Domestic Product. We have presented in this issue detailed description of these cities with their unique attractions and strengths.
Rich infrastructure
In our extensive visits to different parts of Tamil Nadu, we have been struck by the strengths of the state regarding its well-diversified infrastructure. With its long coastline extended over 1000 km, the state has been unique in having four large seaports and several minor ports in between. These, apart from supporting large areas of the hinterland, also offer tremendous scope for private companies to create port facilities on their own.
Not to be forgotten is the fact that Tamil Nadu has four international airports. There are plans to develop several smaller airports at dispersed locations. These would be ideal to spread industrial sites across the entire state. These, over time, could also help build individual hubs by airlines for international operations.
Historically the state has developed a strong highway network. This received a big boost under the National Highway Development Programme post-2000. Four-lane highways are seen in most parts of the state with impressive plans for further expanding on this. Tamil Nadu was one of the earliest states to develop road transport, nationalising bus transport in 1967. Today the state transport corporations operate over 20,000 buses. Add to this a few thousand more buses run by private players offering fast and convenient services to different parts of the state at modest fares. Importantly, in contrast to the dilapidated fleets in several parts of the country, the vehicles operated in Tamil Nadu are much newer.
The railway network in the state had its origin in the late 19th century. Tamil Nadu today has one of the well-knit rail networks. The move towards a uniform gauge has progressed well. General Manager, Southern Railway, R K Kulshrestha, said that the entire stretch would be electrified soon. With rich connectivity to the ports and all urban locations and with impressive plans to attract high rated freight, the railways appear well positioned to service the expanded custom.
Power-full south
Business leader T Kannan, a past chairman of CII (SR), has been passionately advocating industrial development of southern Tamil Nadu. He has now reasons for cheer. The senior bureaucrat, S Krishnan, points to the attractive investments made on the Madurai-Thoothukudi industrial corridor. In recent years Thoothukudi port has emerged a large and profitable major port of the country. The region is already full of power: the Kudankulam Nuclear Power Plant is already the largest such facility with 2000 MW in operation; two more 1000 MW units are to be added. Kamuthi in Ramanathapuram has the most significant 648 MW solar power facility offering cheap renewable power. Thoothukudi has three large power stations to a capacity of around 3250 MW apart from the number of captive power plants by private industries that account for more than 1000 MW. The coal-based power plant at Uppur adds another 1600 MW. New capacity for 2 x 660 MW coal-based thermal power project has been cleared at Udangudi. Do we see such concentration of power capacity in many other parts of India?
Union Minister of State, Pon. Radhakrishnan promised substantial investment for a satellite port facility at Kanyakumari. With suggestions for upgrading Thoothukudi as an international airport, there appears better prospects for the southern part of Tamil Nadu attracting large investments. TAFE's Mallika Srinivasan points to their unit at Nilakottai accounting for large exports of tractors and farm equipment from the country. She points to a new technology tie-up with the Japanese tractor giant, ISEKI, for producing a new range of tractors at the Nilakottai plant. The region is all set for a further fillip.
Natural gas to feed TN industries
For over three decades IE has been demanding a fair share of natural gas produced in the country to flow into the south. Remember the entire production of gas at Bombay High was committed to western and northern states conveyed through the HBJ pipeline? The promise of such a share when Reliance Industries commenced production at the Krishna-Godavari Basin did not fructify. Remember, Reliance quickly constructing the Kakinada-Baruch gas pipeline that resulted in the gas transferred again to the west? IE points to Gujarat making extensive use of natural gas with massive imports also. This has resulted in significant investments in petrochemical and power generation units apart from providing clean fuel for hundreds of industrial units.
The LNG terminal at Ennore constructed by Indian Oil with an investment of over Rs 5500 crore has the potential to be a game-changer. There are bright prospects for large investments on petrochemical, fertilizer, power and other industrial units, apart from switching to piped gas for other industrial users and domestic consumption. With stable, long-term price contracts, gas as a fuel and feedstock has excellent promise for attracting large investments. The Central and Tamil Nadu governments should make special efforts to set up large capacity petrochemical, fertilizer and power plants in the state.
Chemvision
Tamil Nadu set up handsome capacity for a range of chemicals in the early phase of industrialization. Chemical clusters sprouted at Mettur, Manali, Thoothukudi, Ranipet and Cuddalore. But the growth has been modest and the state has been accounting for only around five per cent of total production. Vijay Sankar, President,Indian Chemical Council, pointed to the bright prospects for stepping up investments in this sector.
Indian Oil's new refinery proposed at Nagapattinam can have as an adjunct a large capacity naphtha cracker unit. With Madras Fertilizers and SPIC switching to gas from naphtha as feedstock, a sizeable surplus of naphtha would be available. The Centre has been investing large sums on such facilities in Gujarat and Maharashtra. The state should persuade the Centre for one such unit in Nagapattinam. This can help develop a robust chemical corridor from Nagapattinam to Cuddalore. CPCL's Managing Director, S N Pandey referred to the availability of sulphur from de-sulphurization of crude. This should lend for setting up capacity for sulphuric acid in good demand.
Tamil Nadu has built strengths in the engineering industries, particularly automobiles and IT, apart from the traditional sectors of cement, leather, sugar and textiles. In the new millennium, this has expanded to electronics. M Velmurugan, Vice Chairman, Industrial Guidance & Export Promotion Bureau, pointed to harnessing of highly qualified scientists and engineers to attract investments in research and development. Saint Gobain, Ford Motors and Mahindra have set up world-class R&D facilities. These are apart from the companies long established in the state like Ashok Leyland and TVS Motors.
The facility to recruit at one go workforce in large numbers is another attraction of the state. Remember, IT companies are picking up new recruits from the colleges spread across the state. The state has over 1000 engineering colleges, 48 medical and 700 plus arts, science and management colleges. Again, these institutions are well spread out which lends for recruitment for different locations.
Leads in healthcare
Renowned diabetologist, Dr V Mohan and Cardiothoracic surgeon Dr. Naresh Kumar have written on the strengths of the state in healthcare. The state already has a large number of medical colleges, nursing, and paramedical training institutions. The latest addition is a facility of All India Institute of Medical Sciences at Madurai which should help southern Tamil Nadu also flourish in medical tourism. The Chief Minister's Comprehensive Health Insurance Scheme with Rs 2 lakh coverage for each family has already benefited 1.47 crore families of sick and underprivileged to access high-quality surgical care. A total of 1027 treatment procedures are covered under this scheme. It also includes 38 diagnostic procedures, and 154 follow up procedures. Almost 64 per cent of the state's population is covered under this scheme.
This scheme further expanded with enhanced limits through the Centre's Ayushman Bharat healthcare scheme. With Rs 5 lakh coverage for each family, this would coalesce with the state scheme for many extended benefits. For decades the state has been offering handsome support for the child and maternal healthcare with parallel efforts through the mid-day meals programme for school children. The state maintains its lead in healthcare.
A large share of the state's GDP comes from the services sector. This flows through the remarkable work done by non-banking finance companies, chit funds, women self-help groups and numerous micro-financing institutions, apart from commercial banks. These have been taking care of thousands of businesses in the MSME sector. The state accounts for the largest number of units under this sector engaged in a vast range of manufacturing and services. Look at the flourish of hotel chains like Saravana Bhavan, Adyar Ananda Bhavan, Sangeetha, etc., that offer employment in thousands and have expanded to several foreign countries!
R Thyagarajan, who has built Shriram Capital as the largest non-banking finance company in India and launched life and general insurance companies, pointed to the strengths of Tamil Nadu in innovative mobilisation of savings and investing these for nurturing entrepreneurship.
The Fintech city AND a retailers' paradise
At the CII India Finance Forum, many financial officers discussed the emerging issues in finance management. R Seshasayee referred to the extensive recourse to digitalisation, Internet of Things (IoT) and other tools. With the concentration of finance specialists, the state has the potential to develop Chennai as a fintech city. IT leader N Lakshmi Narayanan refers to yet another unique strength of the state: the flourish of venture capitalists and start-up companies.
Over the last 20 years, the state has also witnessed many retail businesses making strident growth. Just look at the flourish of Saravana Stores, Viveks, Jayachandran Textiles, Chennai Silks and Pothys; famous textile brands like Nalli, Kumaran, RmKV; jewellery shops like GRT, Lalitha and LKS; and the flourish malls of increasing sizes and sophistication mushrooming at different parts of cities in Tamil Nadu.
The rise of the manufacturing and services sectors have also been supporting the hotels and tourism sector. Tamil Nadu has been the leader in attracting the largest number of foreign and domestic tourists. The Tamil Nadu Tourism Development Corporation has been making effective use of IT to reach and attract the Indian diaspora in different countries to visit its main tourist attractions.
Historian S Muthiah suggests promoting some of the unique features of Tamil Nadu like the music season in December. The government can promote specific cities, dedicated months and weeks for specific subjects like music, medical, festivals, temple tourism…
Central public sector units doing well
In the early decades after independence, Tamil Nadu had a slew of public sector investments. ICF, Heavy Vehicles Factory, Neyveli Lignite Corporation, BHEL-Tiruchi, Salem Steel Plant, Madras Refineries, Madras Fertilisers, Small Arms Factory, Madras Atomic Power Station and after a long interval, the Kudankulam Power Plant were set up with significant investments. These provided employment, helped in training and imparting skills and in the development of ancillary industries. However, in recent decades such large investments had dried up. The state can attempt to get more such investments.
Senior bureaucrat T V Somanathan mentions an efficient and diligent bureaucracy among the strengths of the state. The civil service has been renowned for its professionalism and fiscal brilliance. This is evidenced by the ability to access funding from multilateral and bilateral global financial institutions. In my recent discussion, the Asian Development Bank paid rich encomiums for the meticulous care in the preparation of applications for funding, in timely repayments and close monitoring of progress.
This, in sum, is the picture of the strengths of Tamil Nadu across broad parameters. Investors have good reasons to be impressed with the safety, productivity and growth of their businesses in Tamil Nadu. The repeat investments made by several of these should be the best testimony. Good things have been happening in the state and the best is yet to come.