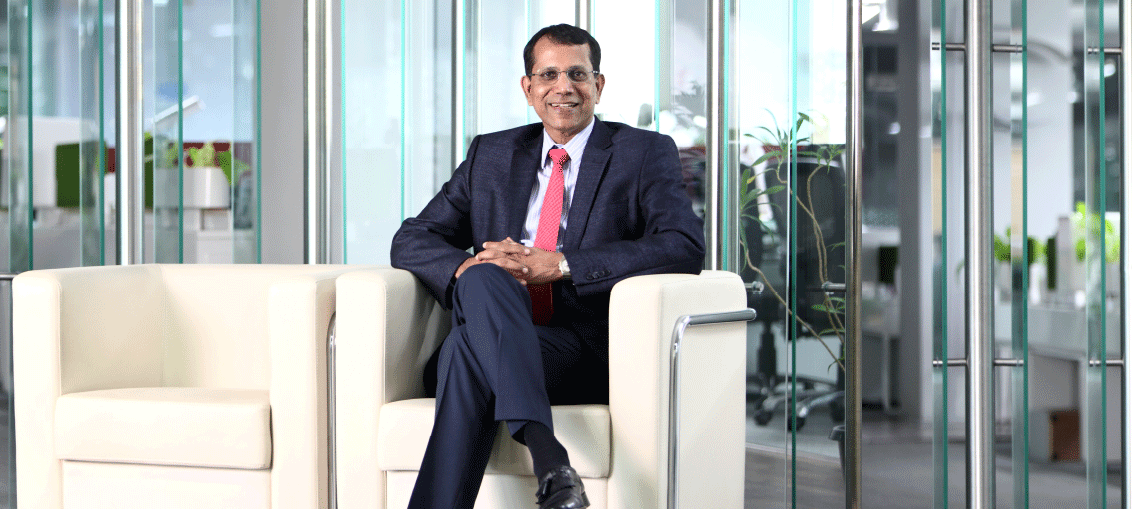 Multifaceted may, perhaps, be a proper description of B Santhanam (BS), Managing Director, Saint-Gobain India Private Limited (Flat Glass Business).
Starting with a MoU on spending Rs 300 crore, SGIPL has invested over Rs 5000 crore in flat glass in India with manufacturing plants in Sriperumbudur (TN), Jhagadia (Gujarat), Bhiwadi (Rajasthan), Chakan (Maharashtra), Perundurai and Tiruvallur (TN) and Tada (Andhra Pradesh). This has helped the company achieve and maintain its leadership in flat glass.
An alumnus of IIT-M and IIM-A, Santhanam has been intimately involved with IIT-M Research Park where Saint-Gobain as an anchor partner has housed Saint-Gobian's seventh global transversal research centre. Saint-Gobain Research India has in a short span of time generated over 65 patents. In the words of angel investor, N Lakshminarayanan, "the Park brought together the academia, students and industry to put India on the global map of innovators and disruptors."
Talent-rich team…
A talented team of leaders at Saint-Gobain Glass India – R Subramanian, Managing Director, Glass & Solutions, A Dinakar Managing Director, Saint-Gobain India Pvt. Ltd. (Sekurit Business), Eisenhower SN, Director–Manufacturing, A R Unnikrishnan, Director–Sales and Marketing, Padmakumar P, Head–HR, G Kumaradevan–Head IT and Digital, among others, have enabled Saint-Gobain to achieve success in India. Santhanam in his several external roles at CII, NHRD, IITMRP, IIITD&M… has chaired several committees, sub-committees and task forces on HR, Skill Development, Manufacturing, Digital Excellence… He is playing an active role in shaping India's policies in these spheres.
Water, water everywhere…
Working towards enabling the vision of Saint-Gobain's sustainable development and maintaining its ecological balance, the Saint-Gobain World Glass Complex at Sriperumbudur has several unique features – two Rain Water Harvested Reservoirs of 132 million litres, a 3.5 MW roof-top solar power facility, power from waste heat recovery system among others and is pioneering an urban forest initiative in Tamil Nadu with over 100,000 trees getting planted in the manufacturing complex.
Santhanam is leading a company whose employees are health and fitness conscious. Nearly two out of three persons at Saint-Gobain participated in marathons conducted at Chennai, Delhi and Surat. His tastefully designed home ( Alai Osai ) combines transparency and sustainability in its design. It has over a hundred native plants and trees that provide fresh vegetables and fruits and reduces the thermal load for air-conditioning.
Keeping in mind its ethos of getting fully involved in the interests and aspirations of the country in which it operates, this French giant Saint-Gobain founded 354 years ago, has been ploughing back its profits in repeat investments. The total investments of the group in India amount to more than Rs 7500 crore.
Describes Santhanam: "we start with sand, valued at x. The conversion to clear glass transforms it to 25x; mirror to 40x; advanced solar glass at to 60x, automotive windshield to 150x and fire safety glazing to over 500x. Essentially at the World Glass Complex, we achieve this kind of transformation with sand plus energy plus chemicals plus minerals plus a large dose of human ingenuity!
Excerpts from an interview:
Industrial Economist (IE): The size of the float glass market and its growth.
B Santhanam (BS): The market for float glass in India is in excess of 2 million tonnes growing @ 7-8 per cent per annum. High-value products are registering faster growth. Historically, we have been concentrating on business to business (B2B) through institutional sales. We supply to those who shape, transform and sell glass to the ultimate consumer. We are beginning to address the Business to Customer (B2C) segment. It is, however, a long journey and digital is a big help.
With the rising expectations of the customer in line with improved living standards, glass is made much more versatile with so much of new features like aesthetics, energy efficiency, colours, electronics…
IE: Especially in the B2B automobile segment you have been global leaders. How is this segment served?
BS: The Indian automotive glazing is at an interesting phase. The industry is now increasingly keen on high value-added products. Our automotive glass range under the Sekurit brand comprises of windshields, sidelites and backlites. The car manufacturers look for value additions like thermal control (more light and less heat) in the car, acoustics and digitalisation and connectivity among
others. Sekurit is the world leader in thermal control windshields and has begun manufacturing these in India. Honda Vehicles in India (Amaze, B-RV and Mobilio) are equipped with the thermal control and acoustic performance windshields from Sekurit.
IE: On the new float line…
BS: This is the most advanced float line incorporating several innovations in process technology. The largest and most sophisticated of all float glass lines of Saint-Gobain worldwide, it is capable of making very large to very small panes of glasses of varying thicknesses. This most efficient floatline is an improvement of nearly 20 per cent over the first floatline in Chennai.
Two other innovations have been made in this new floatline: the first is waste heat recovery from the flue gases generated by the furnace; the special waste heat recovery system, combined with the power generated from the rooftop solar power, will be almost sufficient to run the floatline.
IE: SGIPL is known for its concern for ecology and the environment. You were among the earliest to introduce rainwater harvesting. What is new?
BS: We are inaugurating a new Rain Water Harvesting reservoir with a capacity of 72 million litres. With this new addition, the combined capacity of the overall RWH in WGC will be 132 million litres. These will account for more than half of our water needs.
We are also developing a high-density natural forest using native trees like vembu, aala maram, arasa maram, maghizam and thekku. In this Urban Forest initiative, we are in the process of planting 100,000 trees over nine acres; we have already planted 74,000 trees. Essentially we will have pockets of rainforest in our campus.
IE: Please elaborate on the B2C strategy…
BS: Use of glass for facades and exteriors has today expanded to the interiors in a big way, not just for partitions or glass cabins. For instance, shower cubicle have become the norm. Soon we will have a dedicated production line for manufacturing shower enclosures at our Gujarat plant. We have researched the unique needs of such an enclosure like design, corrosion-resistance, ease of cleaning, aesthetics, etc. We have developed readymade wardrobes, kitchen shutters… and strive to provide total solutions to the comfort and expectations of the ultimate consumer.
We are not just into glass but also into other building materials like gypsum, roofing products, tile fixing mortars etc. We have many products that can combine intelligently to form holistic solutions for the building and construction industry.
This we do through combinatorial innovation by combining glass, gypsum, other materials and electronics to offer elegant and innovative solutions for building exteriors and interiors.
Simultaneously we work on reaching out to the end user and the digital medium is playing an important role. On gypsum and glass, we reach out to millions of consumers on social media and engage them with interactive communication.
IE: Your concerns…
BS: Saint-Gobain Glass has built and maintained its leadership position in the Indian architectural glass market with frequent additions to capacity which brings sudden peaks in production with the completion of every new float line. In the first few months of a new float we export the additional production through Saint-Gobain well spread global network.
India, however, faces the challenge of dumping of products from Chinese manufacturers. In the early stages, the anti-dumping policy protected Indian manufacturers. Today China has changed its strategy. The country has set up large manufacturing colonies in countries like Malaysia. With the free trade agreement that India has with ASEAN, imports from these countries attract zero duty. These imports pose unfair competition. We have alerted the government of the Chinese intent.
Switching to gas…
We counter these by constant innovations and cost-efficiencies. A recent measure we introduced is to switch to gas from the expensive furnace oil. With the recently commissioned Indian Oils LNG gas terminal, we expect a pipeline to Sriperumbudur by end 2019. Pending that we plan to transport LNG through sophisticated tankers. We have erected the infrastructure for this switch.
One more area where we would like to enhance our competitiveness in expanding the source for raw materials. We are in discussions with Neyveli Lignite Corporation for making available glass grade sand from their mines. For them this is a waste product and we have developed a proprietary beneficiation process to make this waste sand usable as glass grade one. This, when operationalised, will give us competitive edge and make our entire process more efficient. We are also counting on the support of the Tamil Nadu government to make this happen very quickly.
IE: Your investments in Tamil Nadu…
BS: Tamil Nadu has been an important part of Saint-Gobain's journey over the past two decades. The state has several strengths like Infrastructure, Geography, Mineral resources, Uninterrupted Power, Water availability, Logistics, ICD, Railways, Roadways, People, Trade and Industry culture, Knowledge and Skill and a Government machinery that is responsive, efficient, collaborative, solution-oriented and that fulfils promises made in the MoUs. The government machinery has in fact, been the portal of entry for Saint-Gobain Glass in India. In the past, four MoUs have been signed with the Government of Tamil Nadu – in the years 1997, 2003, 2012 and 2015. While a total of Rs 2000 crore had been committed, an actual investment in excess of Rs 3400 crore has been made.
Three new facilities are getting inaugurated at the World Glass Complex, Sriperumbudur on 28 January; the Third Float Glass Plant, the Advanced Magnetron Coater & Glass Solutions Line and a 72 million Rain Water Harvesting Reservoir. These investments were part of our commitment made in GIM 2015 with an outlay of INR 800 crores over a period of five years. Today, with these facilities, the actual investment is in excess of INR 1200 crore and made 20 months ahead.
We are also signing our next and the fifth MoU with the Government of Tamil Nadu during GIM 2019 for an additional investment of INR 720 crore for the next six years.
Apart from the massive investment at Sriperumbudur which is in excess of INR 3000 crore, Saint-Gobain has a fused cast refractories plant in Perundurai which is one of the world's largest producer of refractories in one location, the Saint-Gobain Research India at the IITM Research Park and a manufacturing set up to make industrial mortars at Tiruvallur.