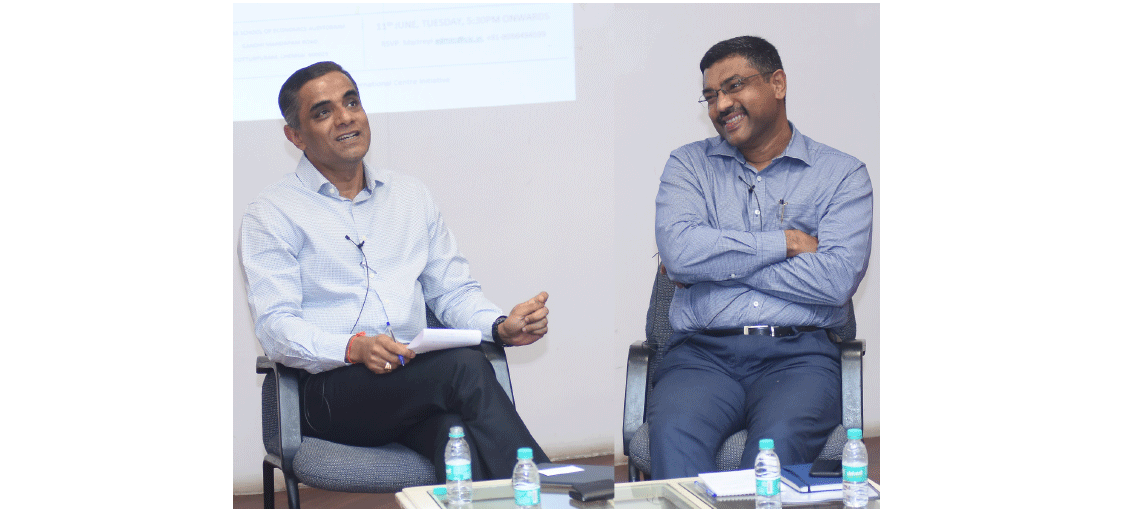 Trade conflicts between the US and China are escalating. They have the potential to disrupt the existing network of global value chains and reduce worldwide production and trade.
Some believe that the trade conflict between China and the US will have beneficial fallout on India. Ramesh Subramaniam (RS), Director General (South-East Asia), Asian Development Bank (ADB) doesn't believe so: "trade tensions between nations may benefit a few in the short term, but they are harmful to all nations in the medium to long term," he said. Speaking at the Chennai International Centre, he stressed multilateralism as critical for adequate funding of projects in developing countries and named the following as essential conditions required for economic development.
• Investments in infrastructure, health, and education
• Macroeconomic stability
• Well-functioning state-owned enterprises
• Quality, corruption-free public governance,
• Inclusiveness that ensures the fruits of development reaches everyone.
• Sustainability of environment and preparing for climate change
• Political stability, security and good relations with neighboring countries
Subramaniam described Asia's near term prospects as robust and termed South Asia as the fastest growing region.
Macroeconomic indicators of Asian countries…
RS pointed to a few macro-economic indicators of Asia:
One, developing Asia's growth will moderate to 5.7 per cent in 2019 and to 5.6 per cent in 2020 amid weaker global demand. Inflation would remain subdued at 2.5 per cent in these two years.
Two, the continuous softening of growth in developing Asia from 9.2 per cent in 2010 to 5.7 per cent projected for 2019, is still respectable. The growth has been supported by domestic demand. The slowdown of global trade has weighed on the region's exports.
Three, the growth moderation of China has been caused both by structural factors and policy tightening. The country has prioritized on the handling of financial risks, controlling environmental pollution and eliminating poverty through targeted interventions. The country which has recorded massive industrial growth is now shifting to services and consumption-driven growth.
Four, India has strong domestic demand supported by stable food and fuel prices that keep inflation in check.
Impact of trade conflict
Subramaniam pointed out that trade conflicts are escalating and becoming more bilateral since the end of 2018. An escalated trade war between the US and China has the potential to disrupt the existing network of global value chains and reduce worldwide production and trade activity. The current conflicts will have a small impact, but should they escalate, as they are likely to, the effect can be severe. The fight will impact China more than it would affect the US. This is understandable in the context of the growth rate of the USA with its mature economy and very high incomes. China has been registering a higher growth rate, but with serious leeway to be made in tackling poverty and improving the standard of living, the conflict will have a more serious effect on Chennai.
The Asian share of world GDP, which peaked in the 18th and early part of 19th centuries, accounting for almost 60 per cent, was lost post-industrial revolution. The trend has reversed since with several Asian countries recording rapid growth. By 2020 Asia already accounts for a third of global GDP and is expected to cross 50 per cent by 2050. One shouldn't be surprised though: look at the strident growth recorded by Japan, South Korea, the Asian tigers of South East Asia, China and India.
Development challenges of India
The development challenges of India outlined by RS related to reducing gaps between advanced and low-income states, creating good jobs, bridging infrastructure deficit, inclusive and improving human development outcomes.
S Krishnan, Principal Secretary, Housing & Urban Development, Tamil Nadu, was on discussion with Subramaniam in the Chennai International Centre program. Krishnan has worked with the Finance Department of the state and later as Secretary to the Union Finance Minister and had a four-year stint at the IMF. He pointed to multilateral financing in India's development projects, around $ 10 billion, as just a small portion of total development expenditure. Tamil Nadu has an excellent record in detailed and credible presentation for seeking funds for development projects and for effective and timely implementation of these, he pointed out. – SV