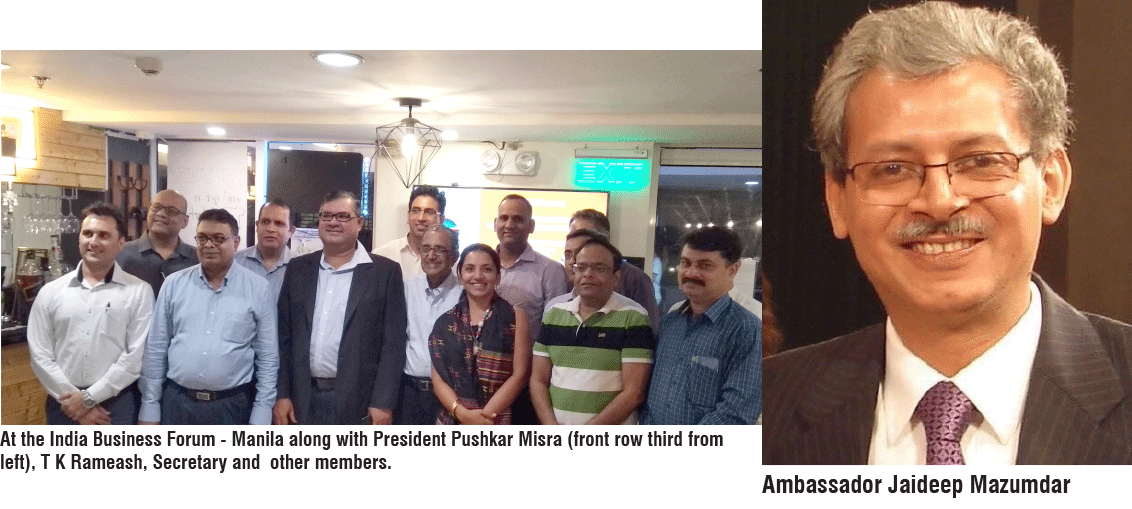 There appears good prospects for the export of a variety of agricultural products such as rice, milk and sugar, engineering goods, appliances, etc. In particular, the potential for sugar exports appears bright as India has a large surplus stock of sugar. There is a need to focus on the economics of packaging and shipping.
In a recent visit to the Philippines, I had the opportunity to look at prospects for trade and investments with that country. The Philippines, with a population of 108 million, is an archipelago of around 7500 islands with abundant rains and hot muggy summers. Approximately 90 per cent of the population is deeply Catholic. You find a place of worship earmarked in every building.
Philippines is the headquarters of two major international organizations, the Asian Development Bank and the International Rice Research Institute. Major revenue streams are remittances from overseas Filipinos, ITES and tourism. Close to 10 per cent of Filipinos (mainly women) work abroad and regularly send handsome amounts to their families.
For more than 300 years, the country was under Spanish rule and followed by American rule for 50 years until 1946. American influence on people, lifestyle and culture are widely visible. English is widely spoken and is a major factor for the growth of the ITES industry in the country.
Because of the geographical isolation, trade and investment relations with India are rather weak.
Two-way trade during 2017-18 amounted to the mere US $ 2.5 billion.
Potential for exports…
In an interaction with the India Business Forum, of which several business leaders of India are members, I got some interesting insights. The Aditya Birla group, the Hindujas, several pharmaceutical companies, and New India
Assurance Co., have been well established. New India Assurance has been operating for 90 years and enjoys a good share of the general insurance business.
There appears good prospects for export of a variety of agricultural products such as rice, milk and sugar and engineering goods, appliances, etc. Particularly the potential for sugar exports appears bright as India has a large surplus production of sugar. There is a need to focus on the economics of packaging and shipping.
Philippines imports milk, both liquid and powder, from Australia, New Zealand and France. With the surplus in milk and milk products in India, there could be scope for regular and increasing export of milk, especially of powder and packaged. The Filipinos also import rice in vast quantities. It can be a product to focus for a long-term trade.
Capital Manila and its region account for 25 per cent of the total population. The country abounds in sophisticated malls. Electrical appliances are sold in good numbers at prices that are double that in India. Chennai and Coimbatore, rich with the production of a vast range of electrical goods and home appliances, can look for opportunities to invest in medium-sized industries to manufacture these.
Japanese and the Chinese dominate the automobile trade. Unlike several other ASEAN countries, the Philippines doesn't have any manufacturing facility for automobiles. Public transportation is lacking and is primarily served by jeepneys mainly consisting of old wartime vehicles, tricycles which are motorbikes fitted with a contraption on the side to seat 3-4 people and other vehicles. Like our share autos, these are popular and take care of the needs for commuting. There is a case to negotiate for favoured treatment to set up facilities for two and three-wheelers and LCVs.
Jaideep Mazumdar, Indian Ambassador to the Philippines, pointed to the advantage of the familiarity with English and a young, educated population who could be imparted skills in quick time. With efforts, there is the potential to attempt quantum growth in trade and investments.
An excellent beginning the arrival of AG&P
There is a welcome beginning. The large business group of Atlantic, Gulf and Pacific (AG&P) of Philippines has won the bids for providing piped gas supply for domestic and commercial uses for specific towns in the five southern states and Rajasthan. AG&P makes natural gas available to end-consumers in emerging markets through its integrated gas logistics platforms.
Mazumdar pointed to the expertise of this company in the oil and gas businesses. One could expect this beginning made to expand quickly to mutual benefit.
The closure of the Sterlite copper plant of the Vedanta group in Tuticorin since April 2018 has resulted in huge imports of copper. Copper concentrate is another export product of the Philippines. India is heavily dependent on import of copper and concentrates. Aditya Birla group, quite active in the Philippines, could look into the prospects for expanding trade in this.