What is Services PMI?
The Services PMI is compiled by responses to queries sent to around 400 service sector companies in sectors like transport, consumer segment other than retail, information, communication, finance, insurance, real estate and business services. Survey responses are collected in the second half of each month and indicate the direction of change compared to the previous month.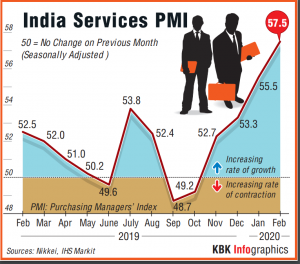 India Service Sector Growth Strongest in 7 Years, Services PMI rises to 7-year high at 57.5 in February 2020.
The IHS Markit India Services PMI increased to 57.5 in February 2020 from 55.5 in the previous month, easily beating market expectations of 52.9. The latest reading pointed to the strongest pace of expansion since January 2013, as both new orders and output rose at a faster pace.
"With business revenues rising, service providers continued to increase capacity to meet further strong growth in sales. This is good news for jobseekers, particularly when we consider the results from the manufacturing industry which showed the steepest upturn in employment since August 2012″
What are the service sectors covered by the PMI?
SICCode SICDescription
5500 HOTELS AND RESTAURANTS
6000 LAND TRANSPORT; TRANSPORT VIA PIPELINES
6100 WATER TRANSPORT
6200 AIR TRANSPORT
6300 SUPPORTING AND AUXILIARY TRANSPORT ACTIVITIES; ACTIVITIES OF TRAVEL AGENCIES
6400 POST AND TELECOMMUNICATIONS
6500 FINANCIAL INTERMEDIATION, EXCEPT INSURANCE AND PENSION FUNDING
6600 INSURANCE AND PENSION FUNDING, EXCEPT COMPULSORY SOCIAL SECURITY
6700 ACTIVITIES AUXILIARY TO FINANCIAL INTERMEDIATION
7000 REAL ESTATE ACTIVITIES
7100 RENTING OF MACHINERY AND EQUIPMENT WITHOUT OPERATOR AND OF PERSONAL AND HOUSEHOLD GOODS
7200 COMPUTER AND RELATED ACTIVITIES
7300 RESEARCH AND DEVELOPMENT
7400 OTHER BUSINESS ACTIVITIES
8000 EDUCATION (private)
8500 HEALTH AND SOCIAL WORK (private)
9000 SEWAGE AND REFUSE DISPOSAL, SANITATION AND SIMILAR ACTIVITIES
9100 ACTIVITIES OF MEMBERSHIP ORGANISATIONS NOT ELSEWHERE CLASSIFIED
9200 RECREATIONAL, CULTURAL AND SPORTING ACTIVITIES
9300 OTHER SERVICE ACTIVITIES
Services PMI