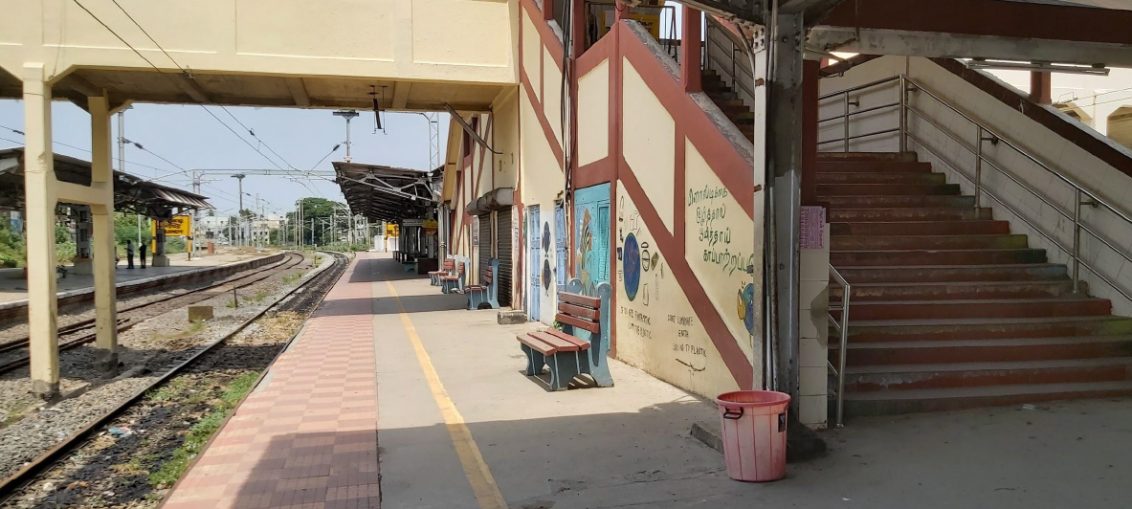 NO TRAIN ON THE RAIL TRACK. LET US SPRUCE UP THE STATION
With total lockdown, with no rail movement, there is  a great opportunity to refurbish rail stations with the involvement of the local community. Guindy, with its many firsts, is an ideal canditate. Come, let us spruce up the station!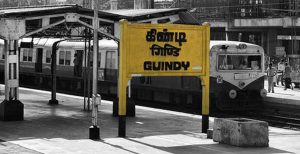 DURING 1960-62 I was commuting by the suburban rail service to Tambaram where I was working at the Madras Christian College.  Economic activity then was at a much lower level. Still I remember the service was offered, without break, almost for 20 hours every day. With some long distance trains getting delayed, often it used to be a 24×7 buzz. Today railways work 24×7 all the days.
During the Covid-19 lockdown railways and so many other services had ground to a total halt.
I looked at the opportunity offered by the lockdown to spruce up a railway station by community effort. As one working in Guindy for four decades I thought the Guindy railway station could be taken up for such an experiment.
Guindy – The Pioneer Industrial Estate
Guindy has many firsts to its credentials. In the early 1950s, Guindy was a suburb of Chennai with farms and bushes. It was chosen as the first model industrial estate along with Okhla, Delhi. To encourage budding entrepreneurs with little resources of their own, the government provided rich infrastructure and a host of common facilities. Manned by officials like T K Palanippan and V S Raghavan who had plenty of passion and dedication, an active Department of Industry and Commerce provided industrial sheds of different sizes at low rentals – of around 7paise/sq.ft. This meant a 1000 sq.ft fully built shed was offered for just Rs 70 p.m, along with decent infrastructure – roads, power, water supply, drainage… More importantly, common service facilities like tool room, forge shop, pressure die-casting, wire drawing, wood working, a raw material depot… were provided by the department. This encouraged budding, young entrepreneurs with knowledge/expertise in one or another branch of engineering – to set up shop availing the common facilities offered and with liberal funding by the state financial corporation TIIC (then Madras Industrial Investment Corporation).
Under the dynamic leadership of R Venkataraman, then TN Minister of Industry, Guindy evolved with a strong cluster of engineering units. Central government investments also poured in – Hindustan Teleprinters, CIPET and NSIC along with a Central tool room further enriched Guindy. The state government provided liberal space for expansion of the estate through Ekkatuthangal right up to the Adyar River in the north. For quite some time Guindy was a showpiece for leaders of various developing countries.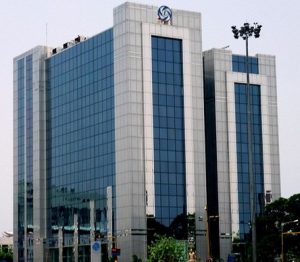 STRONG CENTRE FOR PRECISION ENGINEERING
In the first two decades Guindy emerged an important centre for precision engineering works. Many units like Hivelm Industries, Guindy Machine Tools, Eswaran Sons, Oldham Batteries, Eagle Flasks, Resa Radios, Spares and Supplies (to produce drums and other packing materials), Standard Pencil Factory, Scientific Instruments, Polyene and General Industries… started small, grew and moved out or vanished.
From the Congress government of Kamaraj and RV, through the successor DMK and AIADMK governments this expansion was nourished. Dedicated state ministers like K A Krishnaswamy, aided by brilliant civil servants like K P Geethakrishnan and P C Cyriac, focused on enriching the facilities. Chief Minister M G Ramachandran also gave a fillip to the entrepreneurs, permitting them to acquire their rented properties on easy terms. New units were offered on easy installments. The sense of ownership and involvement lent more lustre to the units.
     From an industrial to a commercial hub
Tamil Nadu is deficient in raw materials like coal and iron ore. Under the then Minister of Industry, R Venkataraman (RV), the state industrial policy was framed taking into consideration the advantage of the pooled uniform price of steel. RV helped establish an engineering industry using the skills of the people for value addition.
Guindy pioneered the concept of industrial estates along with Okhla in Delhi and Naini in Allahabad. Dr P C Alexander at the Centre, T K Palaniappan and V S Raghavan in the state Directorate of Industries & Commerce, contributed to the quick success of this concept.
Prime Minister Jawaharlal Nehru inaugurated the Guindy Industrial Estate in 1958. A year later Lal Bahadur Shastri as Union Minister for Industry dedicated the next phase. Global leaders Bulganin and Nikita Khrushchev from Russia, President Nasser from Egypt and from several other developing countries visited Guindy…
The Department of Industries set up a dozen units – a forge shop, a woodworking unit, units for metal working, fabrication, tool room, pressure die-casting, electrical works, enamel wires… that were open to small entrepreneurs to get their specific jobs done. Expansion of other support services like banking, postal service… took place to meet the needs of the entrepreneurs.
In 1982, the then Chief Minister of Tamil Nadu M G Ramachandran, passed orders to allot the sheds under lease-cum-sale basis and ownership of the worksheds was transferred to entrepreneurs on payment of the cost of the sheds.
Canteen facilities, an industrial training institute, a technical training centre, an advanced training institute… were set up in quick succession. In the mid-1960s a labour colony with 180 dwelling units was set up.
(Excerpts from IE, August 1989 issue)
the transformation…
With the relentless expansion of the city, Guindy, once a peripheral suburb, became the city centre with abundant pressure on land. Continous increase in land costs rendered industrial activity at Guindy unviable. Also, with growth, prosperous units moved out of Guindy to the new peripheral areas of the expanding metro.
Post-2000, Guindy started transforming from an industrial area to a commercial area. Alert real estate developers targeted Guindy. In quick time Guindy transformed into a vibrant commercial hub. The skyline is today dotted with dozens of hi-rise buildings.
Today Guindy houses the corporate offices of Ashok Leyland, TVS Logistics, SPIC, TNPL, Redington… A good number of multinationals function at the Olympia Tech Park, Tamarai, SKCL, Kochar and other large commercial complexes. A number of  large institutions like CIPET, NSIC, Intellectual Property of India,  Electrical Inspectorate, SIDCO, TANSI, King's Institute … operate from Guindy.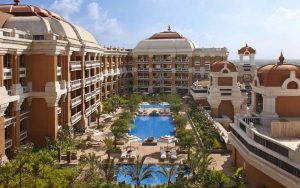 A transport hub too!
Guindy is an important transport hub. While the Beach-Tambaram suburban line has been a historical lifeline for the area, the southern Grand Trunk Road through Guindy and the 100 feet road, initially conceived as an inner ring road connecting the southern and northern parts of the metro, are busy highways with dense traffic. These are further strengthened with two branches of the metro rail, one along the 100 feet road and the other along the national highway (Anna Salai). The Chennai airport is just 8 km away.
Along with the concentration of commercial activity came a large number of star hotels. Le Royal Meridien, ITC Grand Chola, Hilton Chennai, Park Hyatt, Ramada Plaza, Hablis… dot the Guindy landscape.
The United Way of Chennai… 
United Way of Chennai (UWC), a secular, non-partisan, non-political, non-profit, non-government organisation, is part of the United Way Worldwide network. Founded in 2010 to help develop, support and strengthen community service projects and improve lives by acting as an intermediary between the corporate and the development sector in the fields of health, education… UWC adopts schools for holistic development and provide accessible infrastructure, revive water bodies to create green and sustainable neighbourhoods.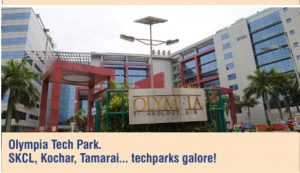 A tourist hub too!
Gandhi Mandapam along with other memorials of former chief ministers Rajaji, Kamaraj, Bhaktavatsalam and freedom fighter Rettamalai Srinivasan attract tourists visiting Chennai. Another tourist spot adjoining the Gandhi Mandapam is the Guindy National Park. It has an exclusive snake park in it. It is one of the few national parks situated inside a city limit. The park attracts more than7 00,000 visitors every year.
Centre for higher education
Guindy has one of the richest concentrations of institutes of higher education. The College of Engineering, Guindy is one of the three oldest higher engineering educational institutions in the country. The Anna University with its constituent Guindy Engineering College and AC College of Technology, the IIT-Madras and the Tamil Nadu Dr MGR Medical University and the sprawling CSIR-CLRI Campus are located in this region. The Tidel Park and the Ramanujam IT Park are in proximity to Guindy. Raj Bhavan, the official residence of the Governor of Tamil Nadu and a sprawling heritage site, is also close to Guindy.
All these attributes make Guindy ideal for the formation of a model municipal/panchayat institution of its own. The law permits this and there is a great opportunity for converting this into such a model administrative unit.
So now you understand the importance of the Guindy railway station that handles a few thousand commuters a day. With the total lockdown and with no rail movement, there is a great opportunity to refurbish Guindy RS with the involvement of the community. With so many institutions established in and around Guindy, the community could demonstrate its interest in revamping the Guindy RS, as an iconic model.
I wrote to policymakers and leaders of several organisations. Our own Bill Gates of Tamil Nadu, N Lakshminarayanan instantly responded and referred the matter to Sabina Narayan and Meenakshi Ramesh of United Way Chennai. B Santhanam, head of Saint Gobain Glass India and Dr M K Surappa, Vice Chancellor, Anna University also offered to join hands. In quick time Sabina and her team made a recce taking and  analysing photographs for working on the face-lift.

Sabina suggests working on a detailed plan with an architect and  town planners. Guindy RS could be a model for others for social involvement in maintaining an iconic public utility.
Look at the resources that could be mobilised for a community effort. Around a dozen corporates and institutions can each take care of one or other aspect of refurbishing eg. painting, construction of modern toilets, cleaning, repairing dilapidated portions of the station, other civil works, improving lighting, installing a couple of ticket vending machines… Software specialists can also provide solutions as is effectively being done by the Chennai Metro Rail. Their management expertise could be extended to streamline the large flow of commuters. Such community effort can make the Guindy RS a model that could be replicated by communities in the neighbourhoods of several other stations.
The railways, managing several thousand stations spread across the country, can benefit immensely by the participation and sense of belonging of private enterprises and the public. Decades ago after the Kolkata metro was built, one could see a vast difference in the pride and involvement of the locals in keeping it clean and free from vandalism. We notice these also in regard to the Chennai metro. Look at the possibility of this getting extended to other stations as also to other public properties! Such an effort can also imbibe a lot more of civic consciousness in the public with focus on hygiene and cleanliness.
Covid-19 offers such a rare opportunity  to spruce up when there is no clutter of the rail track and the station is empty. The indomitable spirit of Sabina and her team, I hope, would still achieve this.